We have lots of great news, from some current students:
Daniel Degenhardt and Linnea Moody both have received Tru-Scholars fellowships for undergraduate research this coming summer. Both of them will be working with Photography Professor Priya Kambli.
Art major Abby Moreno will be doing research through the McNair program this summer. Dr. Heidi Cook will be her mentor for that project.  
And Department Chair Aaron Fine writes:
Current Art Major Natalie Gruber was surprised but pleased by the response to her painting of "Mothman in Domestic Bliss" – a painting she created in her Painting I class. When she posted it on twitter it received over 23,000 likes and was shared over 8,000 times within just a few days. Comments included those begging her to sell prints of the image, so it seems this one post has led to a new side business for her.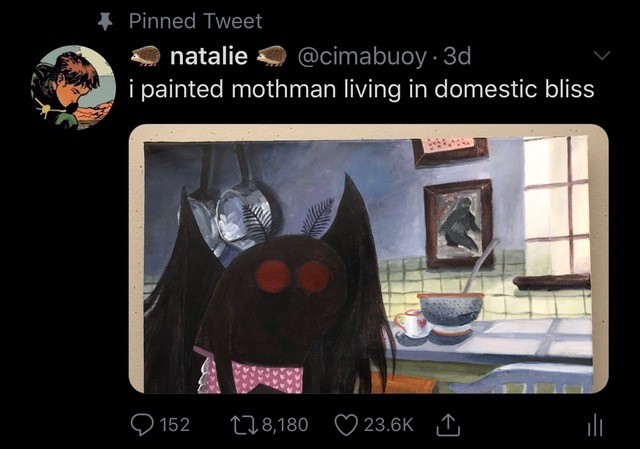 And we have news from an Alumna of the department:
Painting alumna Megan Klco Kellner had her collection of poetry selected to be published as a chap book by Michigan Writers Cooperative Press. More information can be found in their Facebook Announcement:
Michigan Writers Cooperative Press — Chapbook Contest Winner

Michigan Writers Cooperative Press is pleased to announce the winner of our annual chapbook contest. This year we will be publishing one new author, Megan Klco Kellner and her poetry chapbook, "What Will You Teach Her?"

Megan's book will be released at a celebratory reading and reception on Sunday, June 9, 2019 at 7pm. We invite the public to join us for this free event at the Writing House on the campus of the Interlochen Center for the Arts. Mark your calendars to help us celebrate Megan's work.

Megan Klco Kellner writes poems and makes paintings in Grand Rapids, Michigan. She holds an MFA in painting from Kendall College of Art and Design. She started writing poems in earnest during late-night feedings after her children were born. She is, above all, their awe-filled observer.