Photography Professor Priya Kambli has been busy!
Her series Shubh Mangal Savdhan was published in an online photo platform- Archivo Platform – https://www.archivoplatform.com/showroom-pkambli
Archivo Platform was founded in 2012 with the purpose of creating a space of reflection about photography and visual culture through debate around its current practices and discourses, provided by the collaboration with practitioners, writers and researchers who explore photography and lens based media.
Her series Buttons For Eyes was published in an online photo platform – http://www.fractionmagazine.com/priya-kambli
Fraction Magazine is an online venue dedicated to fine art, contemporary photography, bringing together diverse bodies of work by established and emerging artists from around the globe.
Images from her series Buttons For Eyes were published in a photography magazine Musée Magazine Issue No. 23 Choices.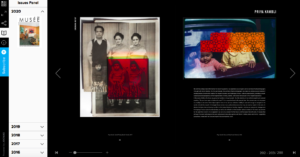 Her work from the series Shubh Mangal Savdhan has been acquired for the collection of Museum of Contemporary Photography and her work will be represented in their print image series.