Dear Faculty and Staff,
This week's numbers are better, no doubt about it. County (and national) numbers have also been down.
Testing was also down (among other things, it's been really cold), so we worry a bit that some of the reduction is artificial, but we still hope we can keep moving in the right direction. It's not a sign to relax, though, so keep doing what you can: masks, social distance, and all the other layers that you can.
With Spring Break looming, now is the time to make a plan. If you are planning to travel at all, we hope you work to minimize your risk, to yourself and others. Doing a 5-7 day self-quarantine is recommended, before and after, as well as a COVID Test a couple of days before you leave. Talk to your family and people you might be spending time with to make sure you all understand the risks and ways to mitigate those risks. Professors are encouraged to do what you can to help students make these kinds of choices, which could involve alternate ways of giving midterms, but also just "keeping the Zoom on" for those in self-quarantine.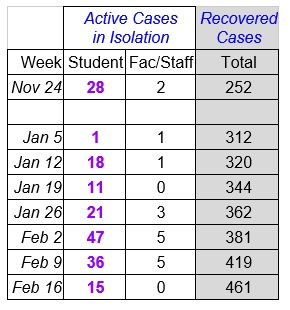 Here's a 9-minute video walking us through the numbers and concerns about spring break.
The vaccine clinic for the county this week was again cancelled due to the cold weather. On the plus side, we know that new vaccine providers will be up and running soon (including the Kirksville Walmart), and we're somewhat hopeful that opportunities will continue to expand. Those in the higher priority groups are still encouraged to call the hospital or the county to get on the list.
==
Although we aim these videos and sheets for faculty and staff, please do share this information or the video with students in your classes, with parents, and elsewhere. This information is shared with all students via Blackboard page and sent directly to all Truman faculty and staff, and shared on our public web page here:
https://www.truman.edu/coronavirus/covid-19-working-group-videos/
If you have questions or topics you'd like to know more about, please contact us at: ndmoore@truman.edu
-Faculty Senate COVID-19 Working Group
Nancy Daley-Moore, PhD, Health Science
Christine Harker, PhD, English
Scott Alberts, PhD, Statistics