Dear Faculty and Staff,
Our numbers have come down, which is good news. Let's hope we can keep it up.
We're still worried about cases from Super Bowl parties from last weekend.
We also worry that we see people choosing to do risky things more often – eat at restaurants, or have people over in a small space. Even if each activity only has a small risk, you really want to think about how many risks you are willing to take. The more infective variant has been found in the region, so things that were somewhat risky before become more risky now. They add up. Think twice about what you're doing, and how often you're doing it.
While many cases are asymptomatic or mild, we keep learning more about the long-term effects of this novel virus, and we just don't know what all that means.
Here's a six-minute video where we talk about it.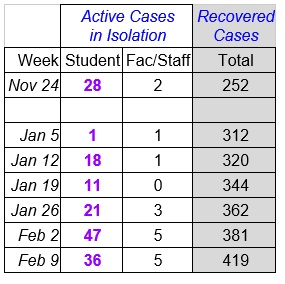 The vaccine drive-thru for the county today was cancelled due to the cold weather, which is a bummer, but it's pretty understandable.  We still don't know when the vaccine will be widely available for those of us on campus, but we continue to encourage you to get vaccinated as soon as you can.
==
Although we aim these videos and sheets for faculty and staff, please do share this information or the video with students in your classes, with parents, and elsewhere. This information is shared with all students via Blackboard page and sent directly to all Truman faculty and staff, and shared on our public web page here:
https://www.truman.edu/coronavirus/covid-19-working-group-videos/
If you have questions or topics you'd like to know more about, please contact us at: ndmoore@truman.edu
-Faculty Senate COVID-19 Working Group
Nancy Daley-Moore, PhD, Health Science
Christine Harker, PhD, English
Scott Alberts, PhD, Statistics