Dear Truman Community,
This week's numbers continue to be promising, especially considering that some of the 14 active cases are carryovers from the previous week. Of course, we know that 14 is still too many, and we encourage everyone to keep being vigilant, using as many layers of "Swiss Cheese" as you can. Please do continue planning thoughtfully for the upcoming spring break, to keep our campus safe as well as wherever you might be going. With the relatively nice weather this week, consider going outside for at least a bit if you can.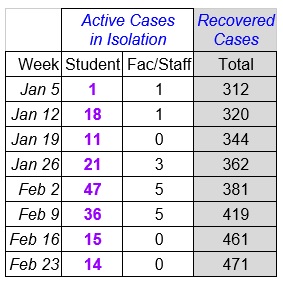 Here's a six-minute video walking through the numbers and other details:
We have heard worries about people in the academic buildings over the weekend and evenings who are not wearing masks. While the risk is lower when the buildings are less full, please do continue to follow the rule to always wear masks in the public spaces of academic buildings. We are glad that we have been able to keep these buildings open, and we want to keep it that way.
Adair County has two vaccine clinics this week, one for first doses and one for second doses, and we think that all spots there are filled. If you are scheduled this week, please make sure you know when and where to go. More hopeful is that other providers continue to ramp up their vaccine offerings, including Hy-Vee and the Ambulance District (form the hospital) with more on the way, including Wal-mart and others.
As reported in the paper and on KTVO, Hy-Vee and some other provider will occasionally have doses that they need to administer quickly. If you are in a group that is eligible for the vaccine, please consider signing up soon, even if you were waiting to let other people go ahead. Please also help friends and neighbors who may need a hand signing up through the various online portals.
We have also heard reports that in some cases, providers have surplus doses that they will give to those not yet in the eligible tier. You might check with those providers to see if you can "sneak into" line. While this is "cheating the system," the bigger problem would be wasting doses that expire before they can be administered. We are going to be trying to get on these waitlists ourselves this week, so we may have a story to tell next week.
We continue to recommend that you get the vaccine as soon as you are able, and that you not worry too much about which brand you get, nor care about which provider is administering the vaccine. If someone with a needleful of vaccine is willing to stick it in your arm, our advice is to let them.
==
Although we aim these videos and sheets for faculty and staff, please do share this information or the video with students in your classes, with parents, and elsewhere. This information is shared with all students via Blackboard page, sent directly to all Truman faculty and staff, and shared on our public web page:
https://www.truman.edu/coronavirus/covid-19-working-group-videos/
If you have questions or topics you'd like to know more about, please contact us at: ndmoore@truman.edu
-Faculty Senate COVID-19 Working Group
Nancy Daley-Moore, PhD, Health Science
Christine Harker, PhD, English
Scott Alberts, PhD, Statistics