Dear Faculty Senators, Deans, Chairs, and friends,
Here's a 4-minute video summary of this week's COVID numbers, which again show an increase.
We continue to see some off-campus events where large groups of people are meeting without precautions. With the weather getting colder, it makes sense that more things are indoors, but really trying to avoid large groups is going to be even more important.
The attached tip-sheet ponders how we might think about staying safe while having fun this Halloween.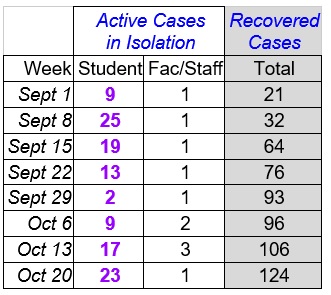 Free drive-through testing on limited days at the Kirksville Hy-Vee, sponsored by eTrueNorth
You need to register ahead of time at this link.
https://doineedacovid19test.com/
https://doineedacovid19test.com/Kirksville_MO_2079.html
After registering, you'll print out a sheet with your important information.
Remember that after completing a test, you are asked to isolate as a presumed positive., normally 3-5 days.
Flu shots continue to be offered to students at the Health Center, as well as at local pharmacies and health centers.
Please forward this information to your departments or other interested groups of faculty, students, staff, alumni, and friends. Although we aim these videos and sheets at faculty, please share the video and this information with students in your classes and elsewhere.
Our earlier videos and Tip Sheets are available here:
https://www.truman.edu/coronavirus/covid-19-working-group-videos/
If there are other questions or things you'd like to know more about, please contact us at: ndmoore@truman.edu
-Faculty Senate COVID-19 Working Group
(Nancy Daley-Moore, Christine Harker, and Scott Alberts)