New Book by Dr. Huping Ling
February 2, 2019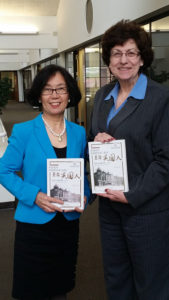 Huping Ling, professor history, presented a copy of her book, Asian American History and Cultures: An Encyclopedia, to Elizabeth Clark, dean, School of Social and Cultural Studies.
With overview essays and more than 400 A-Z entries, this exhaustive encyclopedia documents the history of Asians in America from earliest contact to the present day. Organized topically by group, with an in-depth overview essay on each group, the encyclopedia examines the myriad ethnic groups and histories that make up the Asian American population in the United States.
Asian American History and Culture covers the political, social, and cultural history of immigrants from East Asia, Southeast Asia, South Asia, the Pacific Islands, and their descendents, as well as the social and cultural issues faced by Asian American communities, families, and individuals in contemporary society. In addition to entries on various groups and cultures, the encyclopedia also includes articles on general topics such as parenting and child rearing, assimilation and acculturation, business, education, and literature. More than 100 images round out the set.
Reviews have highly recommended the book:
"Here is a unique reference work focusing on the history, culture, contributions, and challenges of a variety of Asian-origin groups in the U.S. … This is an excellent resource that will be used wherever there are immigrant communities or where students need a starting point for research topics. Great for high-school, college, and public libraries."
—Booklist (Five starred review)
"This well-realized introduction to the culture and history of 21 ethnic groups includes the largest and most prominent—those that have their origins in China, the Philippines, India, Korea, Vietnam, and Japan—as well as smaller groups such as Bangladeshi-, Burmese-, Mongolian-, and Tibetan-Americans… The text is clear and balanced, and occasionally profound… This excellent, up-to-date resource will prove valuable to general readers and students."
—School Library Journal