Field School Experience – Anthony Scimeca in Wales
October 15, 2018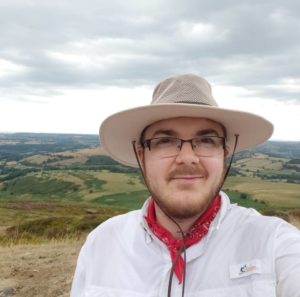 This summer, I attended the Penycloddiau field school for four weeks. The Penycloddiau project, directed by Dr. Rachel Pope of the University of Liverpool and Richard Mason of English Heritage, had been ongoing since 2012. The 2018 season was the project's final season on-site. Penycloddiau is an Iron Age hillfort in the Clwydian Range, a series of hills and mountains in eastern Wales. The contour-type hillfort covers 21 hectares atop a 450-meter hill in northeast Wales.
Under the supervision of Dr. Pope, Mr. Mason, and several supervisors, most of whom were University of Liverpool graduates and Penycloddiau veterans, I and six other international students aided in the excavation, recording, and processing of a section of the outer rampart of the Penycloddiau hillfort. As excavation progressed, we found an impressive alternating box construction at the base of the hillfort, not unlike the method used by modern bricklaying. Beneath the stone rampart, the remains of a burned palisade were found on the last official day of excavation. Dr. Pope and Mr. Mason believe it likely dates to the Late Bronze Age.
Off-site, Dr. Pope led several lectures on stratigraphy and formation processes, soil composition, the basics of archaeological excavation, recording, and drawing, and practicals on understanding matrices and setting up for plan and section drawings. Our off-site base and accommodation was a barn conversion on a small farm in nearby Nannerch, Flintshire. On our days off, we went on several field trips, including visits to Conwy Castle, Moel y Gaer and Bodfari hillforts, Llangollen, and Anglesey. I truly appreciate the time I spent in Wales getting to know a great group of people, experiencing a new country, and learning how to conduct archaeological fieldwork.