Dear Campus Community,
The number of cases has continued to drop this week, down to 6 active student cases.
Although this is great news, Spring Break still has us worried, especially with continued spread of the new COVID variants, so please do make and follow a plan for how to keep you and your family and friends safe, if you decide to travel. The weather looks great in most places (including Kirksville), so maybe outside things will give some additional options.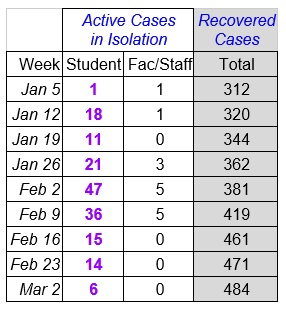 The vaccine logistics continue to be problematic state-wide, with some areas of Missouri having too few doses while others having surplus doses, including some wasted. At a personal-level, we continue to recommend that you get the vaccine as soon as you are able. While it seems like cheating to travel to an area that has surplus doses, or to get on waiting lists at a vaccine distribution site, the state guidelines recognize that it is better for these to not go to waste.
The approval of more vaccines, including the one-dose varieties, and announcements about increased supply and improved logistics at the state and federal level, has us hopeful that things will get better, and the idea that everyone eighteen or older can have access to the vaccine by May would be incredible.
A six-minute video shows us thinking about the numbers and the vaccine situation.
==
Although we aim these videos and sheets for faculty and staff, please do share this information or the video with students in your classes, with parents, and elsewhere. This information is shared with all students via Blackboard page, sent directly to all Truman faculty and staff, and shared on our public web page:
https://www.truman.edu/coronavirus/covid-19-working-group-videos/
If you have questions or topics you'd like to know more about, please contact us at: ndmoore@truman.edu
-Faculty Senate COVID-19 Working Group
Nancy Daley-Moore, PhD, Health Science
Christine Harker, PhD, English
Scott Alberts, PhD, Statistics