Dear Faculty Senators, Deans, Chairs, and friends,
Here's a 10-minute video summary of this week's COVID numbers, which have increased a bit on-campus, in the context of skyrocketing numbers in the county and region.
As we end our semester, we are happy that we were able to pull the semester off at all, mostly due to the fact that our students, faculty and staff did make good decisions for the most part. We have seen some relaxed standards as the semester ends, so we know we need to be vigilant over the break and when we return in January.
We do ask you to encourage your students to think and re-think their Thanksgiving plans. If they didn't really quarantine this week, they really should consider NOT having a full dinner with friends and family when they get home. We know that's a hard ask, but given that many students who test positive are not presenting symptoms, or present mild symptoms like a cold or runny nose, having a gathering with people who are older and with weaker immune systems is a bad idea, even if you think you are not infected.
It would also be great to encourage students to think about their plans when they come back to campus in January. Try to limit exposure for a week to ten days before you return to Kirksville, and during that first week, consider a "quasi-quarantine," where you do as many layers of the "Swiss cheese model" as you can, even as far as wearing a mask around your roommate or flatmates, avoiding gatherings, etc.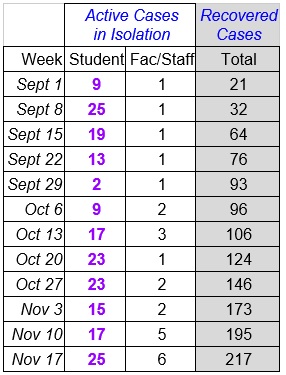 This is you last video update of the semester. The testing and contact tracing teams will continue their work through the break, especially for those students who will be on campus through finals week and beyond, including international students, athletes, and others. Our next update will likely be on January 6th, but we'll try to keep you posted of any developments.
Please forward this information to your departments or other interested groups of faculty, students, staff, alumni, and friends. Although we aim these videos and sheets at faculty, please share the video and this information with students in your classes and elsewhere.
Our earlier videos and Tip Sheets are available here:
https://www.truman.edu/coronavirus/covid-19-working-group-videos/
If there are other questions or things you'd like to know more about, please contact us at: ndmoore@truman.edu
-Faculty Senate COVID-19 Working Group
(Nancy Daley-Moore, Christine Harker, and Scott Alberts)