Dan Mika
February 23, 2021
Dan Mika is a reporter for BizWest Media, a business journal covering Northern Colorado and the Boulder area. A Chicago native, he graduated from Truman State University in 2016 and has since worked for the Ames Tribune and Cedar Rapids Gazette, both in Iowa.
What year did you graduate and what was your concentration?
I graduated in May 2016 with a concentration in Journalism and a minor in Political Science.
What extra-/co-curricular activities did you do?
I was pretty involved with The Index as a reporter and editor, and I also did a short stint as a Campus PAL in my senior year. Unfortunately I started the latter far too late, and I highly recommend it to anyone who misses having younger siblings around.
Did you go to grad school? If so, where? Was it immediately after you left Truman or did you wait? Why?
I haven't gone to grad school, but it's still on my radar. When I was preparing to leave Truman, I thought it was more important to get experience in the industry and come back to grad school with that in tow.
What was your first job after graduation?
I worked for the Ames Tribune in Ames, IA. I initially applied to cover local government as I've been fascinated with politics since I was a kid, but instead I was asked to cover business and agriculture.  I told my future editor during an initial interview that I might not be qualified for that beat since I knew next to nothing about business and the only farm I'd ever visited was a petting zoo growing up in Chicago, but he told me I'd learn on the job.  I now know way more about futures prices for soybeans than I'd ever thought possible, and more than anyone cares to hear about at the bar.
What work do you do/What are you doing now?
I currently work as a reporter for BizWest Media, a business journal covering Northern Colorado and the Boulder area. There's more than enough to cover here between three flagship state universities, the largest concentration of craft breweries in the country, cannabis, technology ranging from startups to the biggest of the big tech players and so, so much more.
How has your Liberal Arts/COMM education helped you?
There's two things I think every reporter needs to have to be good at their jobs: they have to be able to develop a working understanding of a topic relatively quickly, and they need to be able to break down what someone's saying (and not saying) in a way that readers can understand.  A liberal arts education teaches you a little about a lot, and that certainly helps as it keeps you from getting entrenched in the dogmatic thought that can keep a reporter from posing a fresh perspective to people in power. But just as important is the ability to take what someone's saying and connect it to what they've said in the past, the broader conditions that they're making those statements in and the inconsistencies that can arise there.
Which class did you dislike at the time you took it, but now you're grateful you took it?
Audio and TV Production. I never thought I'd enjoy broadcast work, but shooting and editing video is a joy to do and was a huge plus when I was first applying for jobs. The audio side is also key in both learning how to talk in front of a microphone and assembling that audio together.

I currently produce the BizWest Media podcast, make pretty regular appearances on the local NPR affiliate and early last year appeared on the BBC World Service to talk about an incredible story I unearthed that wasn't business-related at all. The jist was that a woman who lives in Colorado and seems to have a very unhealthy obsession with the British mathematician Alan Turing went to his old boarding school in England and stole his doctoral degree, a knighthood medal, and dozens of pictures and school records of him from a dusty box in the school's chemistry closet. She held onto those pieces of memorabilia for more than 30 years before federal agents seized them in a raid.
Shout out to Dr. Mark Smith for teaching that class, and happy retirement!
What was your greatest accomplishment at Truman?
Too many to say, really. I'm a first-generation American and the first in my family to graduate college, which means so much. But in the meantime, getting to witness firsthand the absolute insanity that was the 2015 Missouri General Assembly session was incredible, and there's plenty of stories and op-eds I'd point to at my time with the Index where I thought I brought some important stories to the public. I also remember the deep satisfaction of putting a section of the Index to bed on deadline day when I was an editor there.
My headline accomplishment was being invited to the first (and I suspect only ever) White House National College Reporter Day in 2016. On the weekend before my last Finals Week as an undergrad, I flew out to DC and sat in on press briefings with Obama Administration officials and, eventually, a briefing with Obama himself. There's tape of this on C-SPAN, look for me in the fifth or sixth row with a shaggy hairdo.
Side note: no one from the Mizzou J-School Mafia was invited. Just wanted to point that out.  (Editor's note: Niiicceee!)
Why is Truman a good place for a student to study?
It's unbelievably affordable, and that does matter to your standard of living once your new-grad loan forbearance is lifted. You will be pushed hard here, but that'll teach you to really question and think holistically about the institutions (Truman included) that you'll have to live and operate in throughout your life.
What would you say a COMM student should absolutely do while at Truman?
Not limited to COMM, but absolutely spend some time at Thousand Hills State Park. I didn't get into hiking and the outdoors until I moved to Colorado, and I'm fully aware of how much of a stereotype that makes me.  Anyway, Thousand Hills really is a beautiful place to spend some time away from campus, whether it's on the beach, on a boat, or at a campsite. I found it a welcome respite from college life when I needed it most.
What advice would you give someone who wants to go into the same line of work as you?
This job really isn't for the faint of heart. You will be yelled at by people on social media who clearly didn't read the story. The pay will be lower compared to the workload you'll be carrying. There will be days where the stereotype of the grizzled old journalist keeping a bottle of liquor in their desk drawer will make sense. Learning how to build personal grit and determination is absolutely critical.  However, there's moments that make it all worth it. You'll talk to people who are at the highest of high points in their lives, and people who are experiencing deep personal tragedy. You'll get to talk with members of Congress, governors and presidents, both former and (if you're lucky) present. If you're doing it right, you shouldn't ever be bored at work.
People make sense of the world through stories. It's how we've connected to each other, our ancestors and our cultures, and it's a huge portion of how we frame the reality of the world we live in. Journalists use stories to bring truth to the masses, and that's a job that comes with incredible responsibility. But if you have the drive, the backing of a good editor and the talent to suss out what's truly important for readers and listeners to know, you'll do well.
What do you miss most about campus/Kirksville?
Professor Don Krause's shrugs. Best shrugs in the game.  ¯\_(ツ)_/¯
On a serious note, I really do miss being able to pop into professor's offices to chat about both what's going on in class and what's going on outside of it. You don't know how helpful it is to have a good mentor until you have one, and I'll never be able to thank Don Krause enough for being mine.
What tag line would you create for the COMM department at Truman?
"Think while you speak" or "Think while others speak"
Those need to be workshopped, don't they?
If you could come back to Truman and teach a class for a semester, what would be its title and what would it be about?
I'd do a JINS class focused on economic thought in the public sphere. All too often, we hear that the federal government needs to cut spending to offset its debt because if taxpaying households have to live within their means, so should Washington. It's a deeply flawed analogy. If I created MikaBucks as a new currency and offered to pay my rent with that instead of U.S. dollars, my landlord would start drawing up eviction papers. But the federal government can create more of the currency that it uses to issue new debt, which allows it to deficit-spend in a way that normal Americans can't.  There's an intersection of politics, economics and communication that drives public thought and opinion to make conclusions like the one above, and I do hope Truman offers to pay me to talk about it for a semester.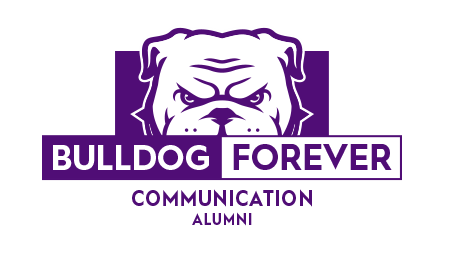 If you would like to learn more of Dan's story, you can follow him on Twitter or LinkedIn

.
If

you want to learn more about the Department of Communication, contact us!