The Friday Five with Brooke Giddens
October 13, 2016
"The Friday Five" is a chance to hear directly from Truman alumni. We are constantly inspired by members of the Bulldog community, and "The Friday Five" provides an opportunity to share some of their wise, meaningful answers. Their stories show what it means to be a Bulldog Forever, and hopefully their insights will allow us all to learn and grow together. This week we are introducing you to Brooke Giddens.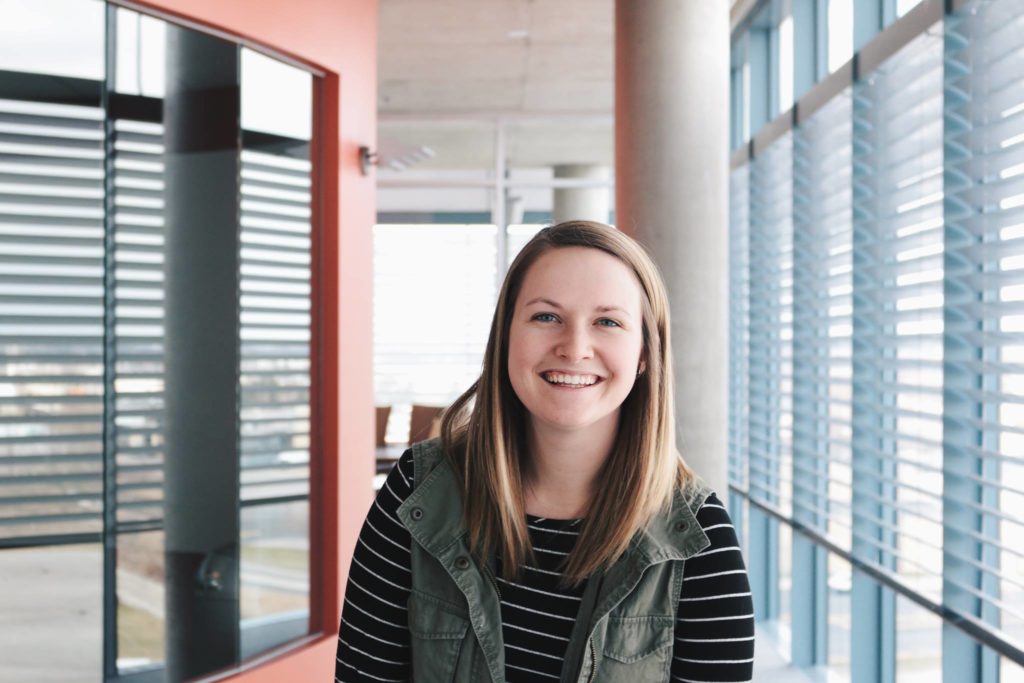 Brooke Giddens graduated from Truman in 2013 with a Bachelor of Arts degree in Communication. While at Truman, she was involved with KTRM and TSUnami Women's Ultimate Frisbee. Brooke is from Rolla, MO, and now lives in Chicago, IL. She currently works in artist relations for Shure, an industry leader in audio electronics. In her role at Shure, she negotiates endorsement deals with high-profile artists of all genres and executes global marketing campaigns. She represents Shure at national award shows such as the Country Music Awards and American Music Awards, and manages relationships with industry professionals from all aspects of the music industry.
There isn't an "average workday" for Brooke. Some days she can be found on the phone negotiating endorsement deals or working on-site at a venue assisting with microphone or gear related issues. Other days she can be found helping draft an ad campaign involving an artist or recording session with a band downtown.
What do you like best about your job?
For me, the best part of my job is that it marries the technical with the creative. I've grown to really love the science of sound. Having grown up playing music, I've always been intrigued by audio, but it wasn't until working at Shure that I realized just how fascinating it is. For the right-brained side of me, it was never an option to go down a non-creative career path. So being able to work with artists and their management team to create engaging content is incredibly rewarding.
How did you get to this point in your career?
It's all about the hustle. I've always wanted to work in the music industry. In my head it was just going to happen. There was no plan B. When you're in that mindset, your only option is to succeed. Some good advice I was given was "Don't have a dream, have a vision." To have any dream become reality, it takes action and having a vision forces you to take action.
I read books, I watched lectures, I reached out to people I admired. I was essentially fearless in my pursuit of music. It's kind of funny to think back on now, being older and on the other side. I looked for any experience I could get. I would drive from Rolla to Columbia and work selling merchandise for bands playing The Blue Note and other small venues. I walked into KTRM at Truman the minute I set foot on campus and worked my way up the ladder there gaining confidence through on-air shows, getting opportunities to work with radio promoters, and seeking outside opportunities such as the MTV College Radio Countdown.
I applied to internships like crazy, and ultimately that's how I got my first opportunity at Shure. However, let it be known that I applied to Shure my sophomore year, went through the interview process down to the final two candidates and didn't get the position. A lot of people would stop there, but I re-applied the following year for the same internship, got the gig, and then was lucky enough to be hired on afterwards.
There will always be road blocks, but if you truly have a vision for any aspect of your life, you'll find a way to get around them.
 Why did you choose Truman?
I never had any interest in going to a big school and just being a number. I loved the class sizes at Truman and knowing I could walk around campus and see people I knew. Truman provides a very personal experience that I felt was the right fit for me and that I was able to take advantage of. Being able to have coffee with your professors and talk about the future or just have professors that can set time aside for you personally to help you better understand an assignment or get feedback – it's invaluable.
How has Truman helped you become successful?
I've got to give a shout out to the Communication Department. I know every major thinks they have the best staff, but the COMM staff goes above and beyond for their students. Dr. Mark Smith was a big mentor for me, having spent many days and nights at KTRM. He encouraged me and helped me through the internship process as well. Don't be afraid to ask your professors for advice and guidance!
Overall, one of the best things Truman has going for it is that it forces you to create opportunities for yourself. If you go to a large university or to school in a big city, there are so many things already happening, that it doesn't force you to create things, if that makes sense?
If I didn't hear a radio show on KTRM that I liked, I created it. If, there wasn't a club that suited your interests, students created it. That sort of environment just encourages leadership and cultivates skills that are extremely valuable in the workforce.
To add to that, something that Dr. Smith did that I really admired and that I've carried with me is, instead of asking "Why?" he asked "How?" This is pretty true of Truman as a whole. The University encourages you to DO things, not just think about things, and it doesn't question your ideas, but instead encourages you to think about how you can bring them to life.
What advice do you have for current Truman students (either in general, or specifically to students wanting to pursue a similar career path)?
In general my advice is just to hustle. There have been several instances where people have reached out to me and asked "How did you get that job?" or "How did you get that internship?" and I ask them where they're applying and what they think they're struggling with, just to learn they haven't even applied anywhere. One of my favorite sayings is "Opportunity dances with those already on the dancefloor." You have to be pursuing opportunity, it's not going to fall in your lap.
Do you know any alumni that we should spotlight on our website? Let us know.