The Friday Five with Leah Dieker
September 2, 2016
"The Friday Five" is a chance to hear directly from Truman alumni. We are constantly inspired by members of the Bulldog community, and "The Friday Five" provides an opportunity to share some of their wise, meaningful answers. Their stories show what it means to be a Bulldog Forever, and hopefully their insights will allow us all to learn and grow together. This week we are introducing you to Leah Dieker.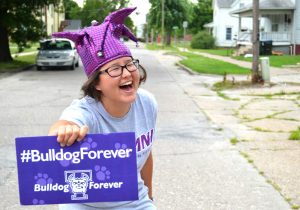 Leah Dieker graduated from Truman in December 2015 with a Bachelor of Science degree in history. While at Truman, she was involved with K-Life, Orchestra, President's String Quartet, GlobeMed, Unique Ensemble Gospel Choir, CCF, and Upward Bound. Leah is from Lee's Summit, MO, but is currently living in Katterback, Germany, completing her student-teaching internship on an army base near Ansbach, Germany. She teaches social studies at the high school level.
How has Truman helped you become successful?
Especially as a prospective teacher, Truman has so well prepared me by offering ample opportunity to put theory into practice. Truman's educator program collaboration with the community is key, which I love. Substituting (though I sub in KC, many of my peers sub for Kirksville and the surrounding districts), working for Upward Bound, participating in K-life, having to teach in undergraduate and graduate courses — all of these gave me the opportunity to be around students and put into practice what I had been learning in the classroom.
What advice do you have for current Truman students (either in general, or specifically to students wanting to pursue a similar career path)?
I am always so excited to see prospective and incoming students on campus because I see them and think, "These students have no idea where they can be in four years — the ways in which they can grow personally and intellectually, the experiences that they will be able to have, the community they will foster here." What an amazing and special time for them, to be on the cusp of really setting into motion the trajectory of their lives! For these students, I would say, you must seize every opportunity you can. Just try. Even if you fail, appreciate the process and learn from it. If you don't feel like you have a passion, just go for something because often times you can only know what you like through experience. When you find this, go at it with all you have. Look for opportunities that will help you develop the skills that are necessary to effectively carry out your passions. Surround yourself with people who are different from you and can give you sound advice and mentorship. Seek to understand and be curious. The time you spend here is so short in the scheme of things, but it can have such an influence on you — how you think, how you see the world, how you see others. Although I am not completely finished with school, I feel I can say that I think it is important to realize that even after college, many years of life are ahead of you. Don't be afraid to take some detours and change course. It is OK to deviate from the immediate career plans you may have set out to achieve in college. Yes, I think it can be scary, but it can be an enriching experience for your life.
How do you describe Truman to someone who never attended the school?
Ahh! Truman is definitely a special place. I think there is a place there for everyone, you just have to find it. The campus is beautiful, you are surrounded by people who are driven to work hard, and there are plenty of outlets from school. The community is tightly-knit and while there is a lot that many students have going on, there is something about Kirksville and its size that lends to a more slow-paced atmosphere. There are definitely quirks to the place and jokes can be made about being sick of dining hall food, buildings being old and either very hot or very cold, or having nothing to do because the town is tiny, but really, it is a great place to be. And I think it is these little things that help make the community what it is.
Is there anything in particular you miss about campus or your time at Truman?
YES! Being so far away now and in a completely different place where I have to start over, I definitely miss the community. I miss seeing people I know or recognize all the time. I miss being out and randomly seeing somebody I know and having a nice conversation with them. I miss being able to ride my bike everywhere and not have to take the bus to get to the store. I miss the library and the resources there. I miss living with a bunch of girls and being able to come home to them. It was definitely a sweet time.  I also miss the beautiful scenery — the rolling hills, the sunsets, the lake.
Do you have any final comments or thoughts?
One of the things I really appreciate about Truman is the influx of resources that are available to students to pursue their interests. Although Truman is a small school, there are opportunities, if only you would look for them. For me, I do not think I had to look far to find these things. Some of these were thrust upon me by professors and programs I was involved in, such as traveling to Italy twice to perform with the Music Department. Others, such as Fulbright and the DODDS internship, I found out through people who had done them and loved the experiences they had. While Fulbright did not work out, the process was incredibly helpful for my own academic and personal growth and I got to know faculty in departments outside my own. With both of these, I of course had to do a lot of searching and inquiry on my own, but the faculty in charge of these processes were incredibly helpful. On that note, the faculty as a whole has been incredibly instrumental in contributing to my success. Whether it is spending time to discuss deeper issues that come out of the classroom, offering patient support and advice, or even simply yet intentionally framing the class in such a way that suits the purposes of its students (for me and most of my peers this means having us consider how we will teach what we learn), at the heart of it, their care and concern for students is so evident.
Do you know any alumni that we should spotlight on our website? Let us know.