Tag Day is Coming!
November 5, 2014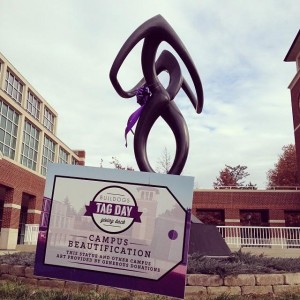 What are you thankful for? Perhaps it's your family and friends, your job or your pets. Here at Truman State University, we have so many things to be thankful for, so in honor of the holiday season we're celebrating Tag Day once again this fall!
Truman has so many generous, thoughtful, all-around amazing donors that we get to highlight on Tag Day. Be on the lookout Friday, November 14. Tags will mark items all across campus made possible by private donations. We hope this will not only show our appreciation for all of our donors, but also to raise awareness to the Bulldog community on just how much these donations impact day-to-day life at Truman. Here's how you can participate:
Scope out all of the tags on campus and find some that impact your day-to-day life.
Take a photo to show your gratitude. This can be a photo of the tag, a selfie with the donation, ANYTHING that shows and tells why you're grateful for our donors.
Make sure to use #TrumanTagDay so we can see your photo!
The first 50 people to share their photos on Facebook, Twitter or Instagram (account has to be public for us to see your photo) on Friday, November 14 will win a free T-shirt.
Stop by our table in the SUB from 10 a.m. – 4 p.m. to sign a thank you note to Truman donors.
Every year, thousands of alumni, faculty, staff, parents and friends of the University invest in Truman to benefit the entire campus community.  Mark your calendars for Friday, November 14 and help us say, "THANK YOU!"