The place where the pasture and the fence line meet the White House
February 20, 2016
"Iowa, we love you. We thank you. You're special. We will be back many, many times. In fact, I think I might come here and buy a farm," spouts Donald Trump after his caucus defeat in Iowa.
This quote alone shows the disconnect between politics and American agriculture. No farmer, in Iowa or throughout the Great Plains, wants to see an out-of-state billionaire roll into town and purchase a farm away from a family who has been farming the same ground for a century. After campaigning in Iowa for months, Trump doesn't understand the lives of rural Americans. In fact, this is one of the only instances where he mentioned farmers or agriculture on his campaign trail.
If Trump, the current leading Republican candidate, does not take the time to learn about agriculture, can we count on any of the candidates to represent rural America? This sort of question drives voters to throw in the towel and decide not to vote. After all, how much does this election actually affect agriculture?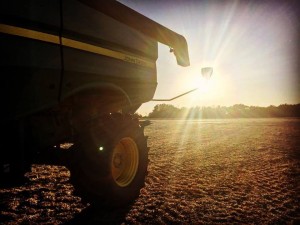 Believe it or not, these people running around in suits claiming that they can save this country have more of an impact on agriculture that we might initially realize. New regulations, such as Waters of the United States (WOTUS), which changes the definition of a navigable stream, can completely change the way farmers complete day-to-day activities. A routine trip through the field to spray could require special permits and if farmers aren't willing to jump through hoops to receive the correct permits they are at risk to pay fines. Having a leader in the White House who understands how overregulation can be harmful not only to agriculture, but our economy as a whole is more important than ever.
The next President will have a huge impact on the future of agriculture. Not only will they be the leader of the free world influencing how many regulations are placed on small business owners, they also have to take a stance on the misunderstood issue of biotechnology. Vermont has already passed a law requiring all genetically engineered (GE) ingredients be labeled. Currently, The Safe and Accurate Food Labeling Act H.R. 1599, has passed in the House and is waiting in the Senate to nullify any state level labeling. This bill would instead create a voluntary labeling system which communicates to consumers that GE products are indeed safe. We need a President who will support agriculture and legislation like H.R. 1599 so farmers can continue doing what they do best.
Now the next questions stands, how to navigate through all of the media to find which candidate has the best intentions for agriculture? Below is a run-down of each of the candidates' strongest stances regarding agriculture.
Republicans
Donald Trump is topping the national polls showing 35.8%, but he surprisingly did not win the Iowa caucus. He instead came in second with 24.3% of voters. Trump hasn'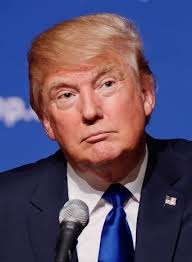 t released any clear information on his stance on any farm policy. He responded "yes" to all of the questions in an Iowa Farm Bureau poll which would mean he believes in the safety of GM crops, supporting ethanol, and rewriting WOTUS. While he reported favorably to the poll, the sincerity of the responses are questionable as he has not spoken of any of the issues in any other setting. Trump does not support free trade. He adamantly opposes TPP and has even threatened to destroy the North American free trade agreement. Trump plans to lower income taxes and capital gains taxes. His tax plan lowers taxes so much that the U.S. revenue will take a dramatic hit and by the year 2036 the national debt will have increased by nearly 80%.
Ted Cruz was the clear leader in Iowa polling in at 26.7%, but nationally he is still trailing Tr
ump at 19.6%. Cruz's most impressive stance has been his outspoken comments regarding WOTUS. He showed during an Iowa summit that he understood why the expanded regulation would be a problem to not only farmers, but land owners in general. His plan is to stand up against regulatory agencies pushing burdensome regulation on farmers and ranchers. Cruz has also been upfront with his lack of support for Renewable Fuels Standard which is crucial for corn farmers across the country. Not only does he not support RFS, he claims to want to take down the blend wall enforced by the Environmental Protection Agency. This shows his lacking knowledge of the ethanol industry because the blend wall is not enforced by the EPA. Therefore, Cruz is voicing support on an issues that doesn't exist. Cruz supports free trade to encourage the US to better enter the global marketplace, but hasn't supported TPA or TPP under the Obama administration. Cruz does support the use of biotechnology in crops.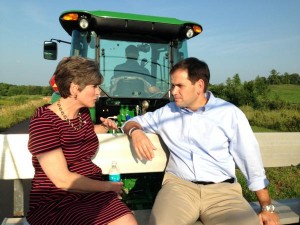 Marco Rubio made the greatest leap in the Iowa caucus taking a close third with 23.1%. Nationally he is also still polling in third with 10.2% of voters. Rubio's strongest agricultural policy is his stance on free trade. He supports major trade deals as they are the best way to reach the global middle class and continue to grow the U.S. economy. Rubio also plans to stand up for farmers and ranchers who are facing regulatory overreach. He specifically mentions the EPA and the overreach involved in WOTUS. The estate tax makes passing a farm down to the next generation nearly impossible, Rubio sees this and plans to eliminate the estate tax.
Democrats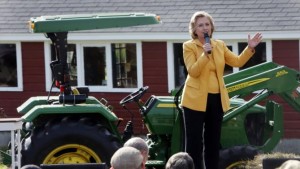 Hillary Clinton is leading the democratic race with support from 51.8% of voters, although in Iowa she barely squeaked out a victory with 49.9% of Iowans. Clinton is seen as a friend to the animal rights community and has received favorable ratings from the Humane Society of the United States. Clinton supports the use of biotechnology and recognizes its safety and usefulness for the future of agriculture. Clinton would like to increase Farm Bill funding for new farmers and implement new local food programs allowing farmers markets to sell directly to schools, hospitals, and businesses. Clinton supports RFS and supports an increased capital gains tax.
Bernie Sanders trails Clinton with 36.3% of n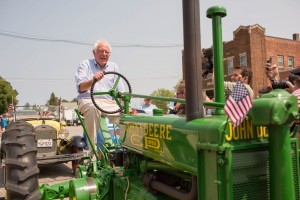 ational voters. In Iowa, he came in a close second to Clinton polling 49.6%. The GMO labeling movement first started in Sanders home state of Vermont, so naturally he supports national mandatory labeling. Sanders also supports WOTUS and voted to override anti-WOTUS measures. Sanders opposes TPP because he fears we will lose jobs in the U.S.
No matter which candidate you identify with the most, one thing is important- vote! There are plenty of candidates to choose from (some not even listed). It may seem hard to relate to politicians with their hair perfectly in place, wearing a stiff suit, and a smile plastered on, but ultimately they do affect the way we live our daily lives. The President elected in this upcoming election will have a huge impact on the future of agriculture and how it is perceived by the public.
Miranda Biddle '16