The Search for Sustainable Coffee
December 3, 2015
"What kind of coffee is best, then?"
 The question hung over the room. Audience members, myself included, leaned forward, eager for the answer.
 Truman alumni Kourtney Dowell and Ryan Klotz had just finished the presentation of their Global Issues Colloquium, entitled  "Escaping the Agrochemical Treadmill:  Structural and Social Challenges to Sustainable Agriculture in Guatemala." Their research examined different systems of vegetable and coffee production in highlands of Guatemala.
 They explained the regulatory differences between organic and non-organic coffee systems.  Delayed payments in the organic system made it hard for families to live year to year, along with increased labor costs.  Those that did manage to switch over to organic found themselves still receiving payments and free coffee plants in times of drought while conventional producers suffered. The researchers found huge chemical inputs on vegetable farms, where chemical salesmen convinced community members "that more is always better" and these families did not have the education to disprove such a claim.  Some could not even read the application instructions on the bottles, leading to further misuse and abuse of pesticides and chemical fertilizers.
 For me, the most valuable information was listening to Guatemalan farmers explain why they bought into one system over another.  It's no surprise that above soil conservation and ecological concerns, they wanted to be able to feed their families. The immediate needs of these fragile communities are great,and switching over to a new system of production is risky.
 It was an emotional ride, let me tell you.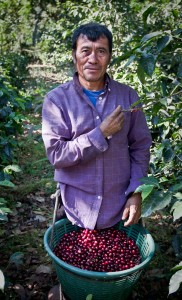 Dowell and Klotz proceed to answer various questions about the methodology of their study, but I still just want to know- how can I keep drinking coffee without feeling guilty about it?  And the presenters continue to dance around the question.  They don't really know, and frankly, their research did not set out to answer such a question.
I left that presentation, disappointed with the lack of concrete information that could aid me in my mission to buy sustainable goods.
 That night, I bought my first bag of organic coffee.  Cameron's Organic Breakfast Blend.  USDA Organic, Rainforest Alliance Certified and shade grown! It even says "sustainably produced" on the bag.  But because we all know how reliable labels are these days, I decided to do a little more research.  
 Cameron's website provided little insight, mainly pictures of smiling foreigners with an inspiring sentence or two alongside. As a rule of thumb, coffee producers can charge more for their coffee the more labels they have. Organic is more of an environmental label, while Rainforest Alliance and Fair Trade are more concerned with humane working conditions.  A label that says "Bird Friendly" is actually the only true shade grown certification- I feel cheated! And wait a minute…Rainforest Alliance allows use of the seal on coffee that contains only 30% certified beans. That seems strange. This website has a bit more insight.
USDA Organic–  produced without most synthetic pesticides, herbicides, or fertilizers,

Fair Trade– Producers are paid more for their product, in exchange for ensuring good working conditions and better living wages.

Shade grown– this is not actually a certification, but implies that some of the rain forest canopy was left in place. Farmers can decide how much.

Bird-Friendly–  It is the most stringent in its requirements. It is the only true "shade-grown" certification, requiring a minimum of 40% shade cover and 11 species of trees to provide a safe haven for threatened rainforest birds.  Bird-friendly coffee must also be certified organic.

Rainforest Alliance– Not exclusively an environmental certification, it covers a number of ecological issues as well as community relations and fair treatment of workers. Certification is awarded based on a score for meeting a minimum number of an array of criteria: soil management, energy use, biodiversity are just a few.
 However, each label has strict certifications and is subject to regular audits. If the sweet coffee farmer in the Guatemalan highlands can't feed his family off of organic premiums, what good is that?  So while all these labels probably guarantee you a "better" coffee, there are plenty of non certified coffee farms that use environmentally-friendly practices while "triple-certified" producers (typically means organic, fair trade, and bird-friendly)  may not be living much differently than more conventional coffee farmers.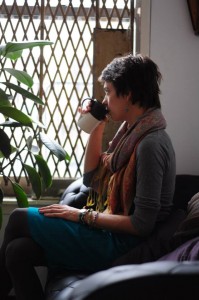 Basically, I am more confused than before.  For me, coffee is "best" when it is environmentally friendly, and friendly to the producers but I don't have the luxury of talking to the farmer, like I might when I buy produce at the Kirksville Farmer's Market.  I don't have any firsthand experience in this huge commodity market.  "Bird-Friendly" seems to be a pretty sound label, but maybe that is just because I love birds.  I can say that like many sustainable goods, higher price is your best indicator.  And trust me, it's only high compared to the "cheap" food we are used to.  If you are a regular coffee drinker like me, I encourage you to do your research and then "vote with your dollar" and pay for the extra labels. If these trends grow, the switch to more friendly production systems will be less risky for the coffee farmer. I think as a Christmas gift to myself, I am ordering my first ever bag of bird-friendly, fair trade coffee and I will enjoy every warm, sustainable sip.