To the Man in the Combine
November 9, 2015
One of the most popular blog posts that I have seen trending across social media, shared by my agricultural sorority sisters and even one of my professor, is Kate Lambert's, 'To the Woman Riding in My Husband's Combine', posted on her Uptown Girl blog. Lambert's post struck an interest in the hearts of all of those women involved in agriculture. This post inspired me to share about my personal experience working in the industry, how to reach out to others in a similar position to me and how the industry is changing for the future.
…
To the Man in the Combine,
Ten years ago, I doubt you would recognize me as an agricultural advocate. Ten years ago, you would have seen me staring at my opponents across a volleyball net, cheering and staying loyal to my basketball teammates, rinsing my chorine hair after morning swim practice before heading to class, and being ready in my spot for the relay while participating in track and field. Ten years ago you would have seen me in a sparkly outfit, perfecting my moves, providing the best show for the audience in my varsity Show Choir with the hopes of winning grand champion. But today, I am a proud advocate for agriculture and am among a growing generation of females in the field.
Somewhere deep inside of me that passion for agriculture has always churned. Now at Truman State University, I have learned that my passion for agriculture comes from my love of animals, my desire to give back to those who have given so much before me, and the joy to convey the truths about agriculture by standing up and supporting the farmers.
Agriculture has traditionally been a male-dominated field in the United States, now women are ever more passionate to join the field and advocate about the truths of the industry. Women are popping up all over the map in agriculture, as seen in the statistic that 47% of Iowa's 30.7 million farms acres are owned by women, in the leadership of Ellen Kullman, who recently retired from the CEO position at DuPont, and in the 46,000 female farmers in Missouri.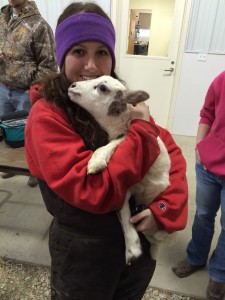 In the Midwest, colleges have found that recently more women have sparked an interest for the field of agriculture. Even though women haven't populated every sector of agriculture, I've noticed that the industry is starting to incorporate new faces within the workplace. Agricultural corporations are starting to recruit more females within internships, rotational development programs, and full time positions.
This summer I was gratified to be offered the Livestock Marketing Internship with Case IH, where I had an opportunity to work with all the tractors under 240 horsepower including the Farmall, Maxxum, Puma, and Optum lines and hay equipment. In the work place, especially in marketing, I noticed that there weren't many female staff members involved in marketing (including high-horse power, livestock, combines, sprayers and tillers). Even though marketing was male-dominated for full time positions, females represented half of the interns within the department. Within Case IH, there was a positive response to females entering the agriculture workplace through internships and opportunities. Females in the agriculture industry are more willing than ever to learn about the job at hand. While it's true that most of the clients that females will be working with are male, this does not necessarily represent a gender basis. In some cases, like the National Hay and Forage Expo, I was the only female representing Case IH where I presented during all the demos of the equipment.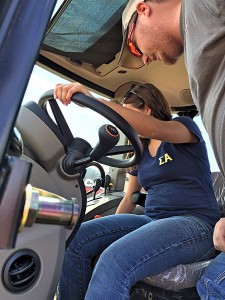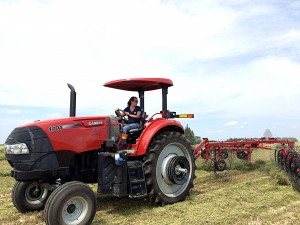 Ten years ago, you would not have believed that I would have known all the differences between your Case IH Farmall 140A and your John Deere 6140D or your Kubota MX135GX You would not have pictured me in front of a set of product specialists and sales managers teaching them the differences in Case IH's lines of products and creating sales training material. But, I have become very knowledgeable about agriculture and the world around us, proving that I can survive in this industry.
Someday, I will be that person that steps onto your field as your sales representative. I will be that person riding in your combine, making sure that you are 100% satisfied with a certain product. Currently, I am advocating for agriculture and specifically the improvement of gender equality within the industry so that you, the man (or woman) in the combine, can keep producing food and serving our nation and world.
Sincerely,
Alexandria Avila
The Future of Agriculture