An Aggie's Perspective on DC
November 4, 2015
There was a special buzz in the American Farm Bureau Federation (AFBF) office in Washington, D.C. as I walked in the doors at 7:30 AM sharp (nearly an hour before I normally arrive). The office was animated by excited chatter and fueled by copious amounts of coffee. Why? A very special visitor coming into the office later that morning. I hurried over to my computer to print out an extra copy of the testimony. I feared World War III might break out causing me to lose my original copy (You never know, right?). With my briefcase full of supplies in one hand and a cup of coffee in the other, I left to find the other intern, Spencer. Together, we waited patiently in the conference room for our esteemed guest to arrive. Spencer and I admired the room surrounding us- a library full of books from wall to wall, and floor to ceiling all about agriculture. We felt like a million dollars seated in giant leather chairs around a large oak table. This conference room was appropriately named the Lincoln Room and it always seemed like the second most powerful room in the office, only to be topped by President Bob Stallman's office of course.
Tick. The clock struck 8 AM sharp, it was finally time for one of our very own, Iowa Farm Bureau President Craig Hill, to begin his briefing session on the issue of mandatory Country of Origin Labeling (COOL). Later that day he would testify at a hearing in front of the Senate Committee on Agriculture, Nutrition, and Forestry. (A hearing is a time for all members of a Congressional Committee to become informed on a certain issue by asking experts on the issue to give informed explanations or testimonies on the issue.) Prior to the hearing, two of the best AFBF lobbyist gave him a rundown of the issues surrounding COOL as well as possible questions that would be asked at the hearing.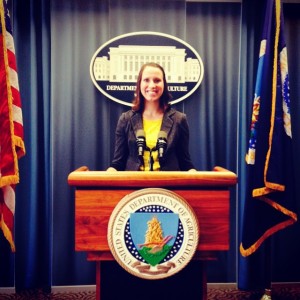 This past summer I had the opportunity of a lifetime- an internship in our nation's Capital. I was fortunate enough to receive an internship with American Farm Bureau Federation, the largest general agriculture organization, as their public policy (legislative) intern. The lessons I learned throughout that summer and internship are invaluable and will be some of my most cherished memories.
I first became passionate about agriculture on my family's hog farm in western Illinois where I was exposed to agriculture at a very young age. I decided to further explore my passion by pursing a degree in agriculture at Truman State University. It didn't take long for me to recognize one of the largest problems facing the upcoming generation of young agriculturalists. Once I was away at school the problem became more apparent as I met people from all different backgrounds. Where I saw this problem popping up the most was during conversations in the dining halls.
There was a disconnect between consumers and farmers about how their food was produced and grown. This disconnect was resulting in burdensome regulations on farmers coming from Capitol Hill. All of this because of a simple question: Where does my food come from? This is no easy question to answer, but I knew I at least needed to try. Where better to start than in Washington, D.C.?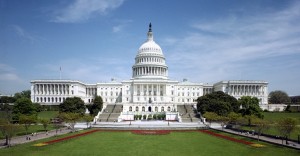 This wasn't Mr. Hill's first rodeo and I could tell. He seemed confident and excited to be testifying. He knew his arguments like the back of his hand. After an hour of discussing COOL it was time to make the trek to the Capitol. Mr. Hill was accompanied out by the head of the public policy department and the international trade lobbyist. We interns trailed behind- soaking up all the knowledge we could.
Farm Bureau supports COOL, but only if it abides by World Trade Organization (WTO) standards. This means that American farmers would be able to freely trade their products without retaliatory tariffs. Unfortunately, the latest WTO ruling decided that the US COOL policy is not up to par leaving room for Canada and Mexico to impose retaliatory sanctions. The products affected by the sanctions would range from cattle to hogs, cheese to apples, pasta to bread, wine to sugars and so on. These increased tariffs would hurt farmers and producers across the country as shown by the diverse list of goods threatened. Consumers could also feel the impact of these tariffs through higher food prices at the grocery store. If the US continues with the current COOL legislation, the US would be at risk for experiencing nearly $2.4 billion  loss in trade from Canada and $713 million loss in trade from Mexico.
These numbers are drastic and can easily be avoided if COOL is repealed and redrafted. This is why Craig Hill's testimony is so important – not just in the Farm Bureau office, but across the country on farms everywhere. Not to mention, my friends around the Truman dining hall tables could confidently answer lingering questions about their meals' origins while not bearing increased food prices.
During the two-hour hearing, Hill recited his testimony perfectly and answered all questions without hesitation. The hearing was deemed a success. Most committee members seemed to come to a consensus that COOL needed to be repealed.