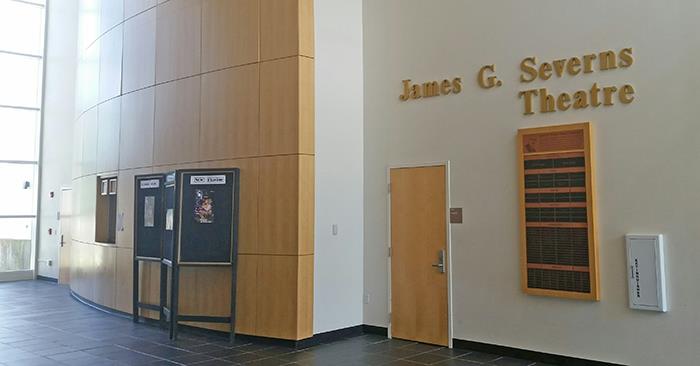 The Theatre Department's play direction class will present the work of six new directors in one-act plays at 8 p.m. May 3-4 in the Ophelia Parrish Hall James G. Severns Theatre.
The class, taught by assistant professor David Charles Goyette, directs plays from some of the best playwrights from around the country as a final assignment. The plays had to be published within the last 80 years, between 10-30 minutes in length and without heavy science, costume, light or sound effects.
These final productions represent a synthesis of numerous concepts explored in the course of the semester. Students explored composition and picturization techniques, scene analysis, how to develop a directorial approach and methods on how to work with actors.
The play direction course is required of all theatre majors in order to graduate. Admission is free for the one act plays. For more information, contact Goyette at dcgoyette@truman.edu.
May 3
"I Think You Think I Love You"
By: Kelly Younger
Directed by: Emma Hegemann
A blind first date gets off to a rough start.
"The Make-Up Artist"
By: David Henry Wilson
Directed by: Blaine Shepherd
A makeup artist slowly transforms an actor's appearance into a decrepit state, as she is harassed and pestered by him.

"Drugs Are Bad"
By: Jonathan Rand
Directed by: Tristin Baro
Instead of following his parents' strict insistence on sex, drugs, and rock and roll Brad has been studying behind their backs!
May 4
"Kissing Scene"
By: Carl Martin
Directed by: Austin Cable
Two mismatched student actors practice a scene where they have to kiss.

"The Grandfather"
By: Brian Harris
Directed by: Montana Carlson
When Maury's off-the-wall grandfather moves in, he helps to take Maury's gaming to the next level.
"Variations on the Death of Trotsky"
By: David Ives
Directed by: Isabella Richards
Trotsky won't except his death much to everyone's exasperation.