Student-Produced Theatre Production: Oct. 27-29
October 24, 2016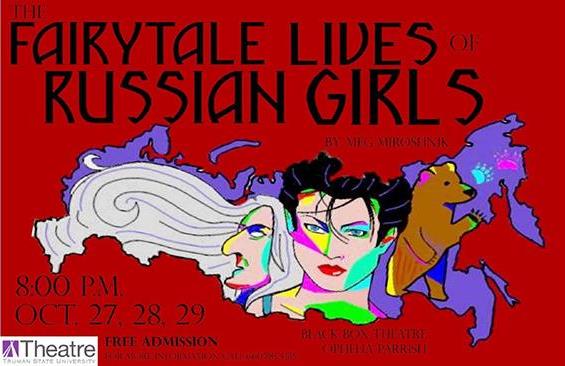 The Theatre Department will present The Fairytale Lives of Russian Girls in the Ophelia Parrish Black Box Theater at 8 p.m., Oct. 27-29.
Theatre Department lab shows provide students with an opportunity to take complete responsibility for a production. The steering committee selects a play and director from numerous submissions during the semester.
This semester's production is directed by senior theatre major Ann Acklen Brown of St. Louis, Mo. Her work throughout the years has been focused on directing. Brown's directing credits include IPAC's production of "Woyzeck," assistant directing "Hamlet" and directing the one-act "Vanilla Crescents."
About the Play
Award-winning playwright, Meg Miroshnik casts a spell with The Fairytale Lives of Russian Girls. Once upon a time—in 2005—a 20-year-old girl named Annie returned to her native Russia to brush up on the language and lose her American accent. Underneath a glamorous Post-Soviet Moscow studded with dangerously high heels, designer bags, and luxe fur coats, she discovers an enchanted motherland teeming with evil stepmothers, wicked witches, and ravenous bears.
Annie must learn how to become the heroine of a story more mysterious and treacherous than any childhood fairy tale: her own. This subversive story haunts the audience, and carries a powerful message for young women living in a world where not everything ends up happily ever after.
Tickets
Tickets are free and available one week before the show at the Theatre Box Office in the main lobby of Ophelia Parrish Building. Because of limited seating, advance tickets are recommended. Tickets must be picked up in person in advance, except for our out-of-town guests. Reservations for out-of-town guests only may be made by phone 660-785-4515, and those tickets will be held at the box office until 15 minutes before show time.