Check out this latest post from Truman Student Emily Leddin from her study abroad program in Germany!
On Friday, I went to the Eiscafe and got a Biene (bee) kid's ice cream. Then, this weekend I went to Paris, France. Holy cow is it a huge city! Buying a 3-day Metro ticket was one of the best decisions I could have made there. My hostel was in a suburb of Paris, so I didn't do any exploring on Friday night because I got there pretty late. On Saturday I woke up, ate breakfast at the hostel (baguettes with butter, watermelon, boiled eggs, apples, and bananas—hands down the best breakfast I have had in Europe), and set off on exploring Paris. I started with the Eiffel Tower. I took the stairs up to the second floor, and then bought a lift ticket to get to the very top. You can see forever from the top. After the Eiffel, I went towards the Louvre and took pictures of the pyramids and things. I didn't really need to see the Mona Lisa, so I grabbed lunch at McDonald's (they had free wi-fi, which was a good surprise) and then attempted to go to the Museum Curie. I ended up in a suburb of Paris because the Metro stop had the name of the street I needed. I then broke out my super limited French and asked some people if they knew where this museum was (very much so not where I was), and they told me how to get there. The museum was about 3 rooms large and had a lot of the chemical instruments used by Curie and her students in the understanding of Radium in cancer treatments. It was pretty neat. After the museum, I ate a Nutella crêpe. Then I got back on the Metro and went to Arc de Triomphe. At this point, it was about 6pm, so I went to a crêpe place that my friend Dena recommended I go to. I had a cheese crêpe, which was ok. I sat next to some tourists from Texas at the restaurant, and they taught me the word for bill in French (La Addition). They also told me that I had to go see the Eiffel Tower at night. So I went back to the part of the city with the Eiffel, and took some pictures by the bridge. From that bridge, you can see a Statue of Liberty replica (the Pont de Grenelle one on Wikipedia). I went to the Eiffel Tower and waited. I sat next to some people with American accents, and at some point asked them if they knew what time it was supposed to light up. They weren't sure, but knew it was closer to 10, so I asked if they wanted the group picture they had been trying to accomplish earlier. They were all from Ohio, and I sat with them on the mall area of the Eiffel Tower until it started raining just before the tower lit up. They were also the ones that took the jumping photo. One of the cheesy tourist photos they took was with them spelling out OHIO using the Eiffel as the "I". After the tower was lit up, I went back to the hostel. Someone was in my bed when I got there, and all my stuff had been moved to the side. It took over an hour to resolve. I'm still not entirely sure what happened, as 90% of the conversations regarding it were in Korean. Sunday morning after breakfast, I went to Notre Dame. I went to the 10am mass there, which was a cross (puns!) between French and Latin. All the Americans said all the responses in English. It was cool how I knew exactly the part of mass we were on just by inflection. After mass, I walked around the church for a little while, and then stood in line for the Cathedral. Finally, 2 hours after being in line, I was able to go up the tower. I took a lot of pictures. I liked the view from the Cathedral a lot more than the view from the Eiffel. I was also able to climb into the Southern Belfry and take pictures from there. After Notre Dame, I headed back to the train station. I tried to buy stamps, but apparently stamps to America is a foreign concept (2 puns? I'm on a roll!!). Then I went back to Heidelberg. Today we ate lunch at Zapata. Germany likes to put random sauces on their food that aren't listed with the ingredients in the menus. There was a weird ketchup-mayo-mustard mix on our burgers. Brian and I were not amused. Tonight I went to trivia night at O'Reilly's. That's the Irish pub that's pretty close to us. I met another person from Ohio. Trivia was cool because it was in both English and German. I didn't win anything, but I am plausibly the only person in the pub that knew that John Goodman was the voice actor for Sully in Monster's Inc. I have one more week in Heidelberg! See you all soon!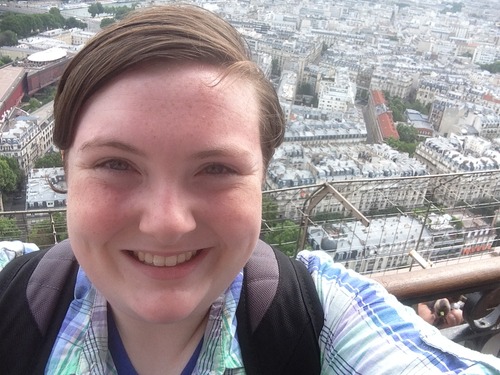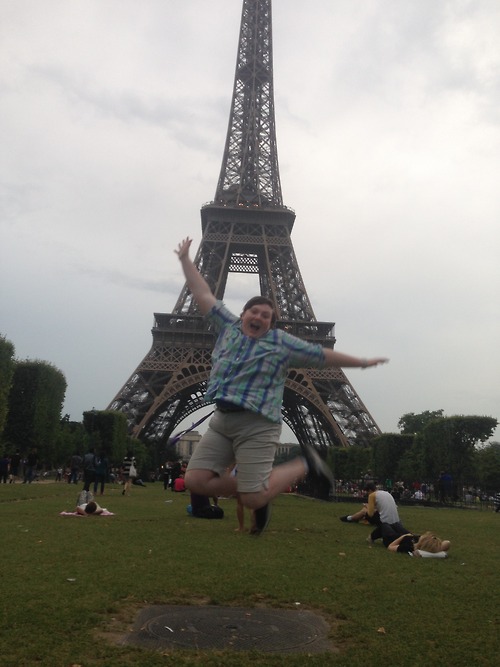 To read more, check out her blog!
---