Teaching Outside the K-12 Classroom: Zac Burden
A love for learning and an opportunity to get involved with residence life on a college campus put an interesting twist in Zac Burden's career path.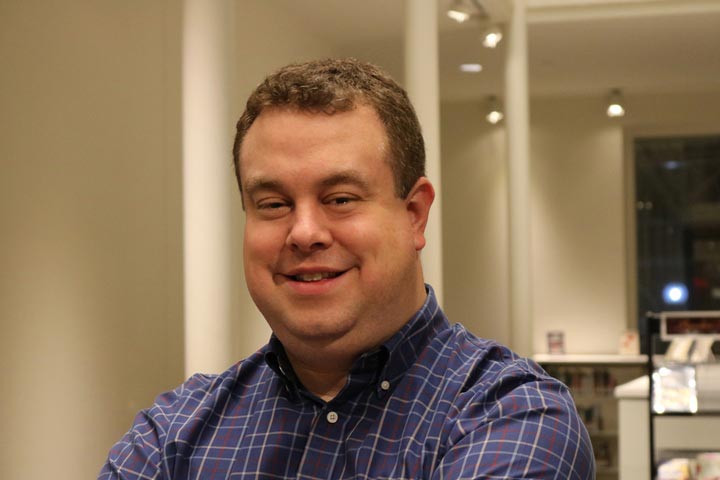 By Nathalia Baum
Zac Burden grew up loving school. While other students looked forward to summer's release from the classroom, Burden would lament the days he wouldn't be able to learn and participate in lessons.  To cope, he would enlist others in "playing" school from June through August. It was to no one's surprise then that Burden's dream was to continue leading others in learning.  "I wanted to be a teacher for a really long time," he confesses. "I loved school and civics…that sense of community engagement." In fact, the Burden family was known as the "driveway people" in their neighborhood. Their time spent outside on the driveway, getting to know the members of their community, left an important impression on Burden that would shape his life for years to come.
For Burden, discovering Truman State University followed this same theme of community. An admired peer from his high school orchestra recommended Truman—a school from which her brother, a teacher, had just graduated. In the spring of 2003, Burden graduated with a bachelor's in history. His was the last class to graduate under University President W. Jack Magruder.
As an undergraduate, Burden became involved with Residence Life as an SA for Dobson Hall, one of the residence halls on the Truman campus. During his senior year, he was hired as a community coordinator and transferred to Missouri Hall, another residence hall. Although it was difficult at first to shift his loyalties, he fell in love with being an administrator and "making a place feel like home."
After his first semester as a Master of Arts in Education (MAE) student, his boss resigned and Burden took over as the Missouri Hall director in the spring of 2004. He continued his MAE studies part-time as he learned how to navigate this new position. "My parents started equating my work to that of a small-town mayor," he chuckles. He is responsible for operations of the hall, such as the supervision of student advisors and community coordinator, administrative aspects like budgets and hiring, coordinating with other officials, and many more responsibilities. It is a demanding position, but one that Burden loves so much that he has "literal nightmares about leaving."
"My parents started equating my work to that of a small-town mayor."
When asked how he felt about not teaching in a traditional classroom, Burden smiles and responds, "Once I started as director, I realized I liked it too much. I was just going to do it until the renovation but then kept thinking, 'Well maybe after this…well maybe after this…'" He refers to the Missouri Hall renovation of 2007, during which time he completed his student teaching in Novinger, Mo. "As sad as I was when MO closed, I loved student teaching," he says. Recalling one of his favorite memories during this period, Burden recounts how he tried to truly understand his students. "I decided not to teach for a day and instead was a seventh grader with the rest of the kids." With the help of his colleagues, he went through the day with his students, had them call him Zac, sat with them at their desks, and experienced the classroom as they did.
In 2009, Burden completed his MAE studies. A few years passed and with his provisional teaching certificate about to expire, he decided to apply for a traditional teaching position. This was a competitive time and when he learned he did not get the job he was actually relieved. "This is what I love," he says simply. Every day he is able to implement MAE principles—from knowing how to execute quality planning to teaching objectives ahead of time. Burden especially values the lessons he received from former professors such as David Bethel and Jeff Gall. "They're the bedrock of how I run things," he states. Burden credits Bethel with teaching him the valuable triad of "state, teach/train, and assess." Gall taught him how to establish classroom rapport and authentic trust—trust that he uses to motivate those he teaches and works with now.
As Missouri Hall's director, Burden gives his students the respect, compassion, and empathy to grow into the best people they can be. When describing his personal teaching style, Burden says, "I come from a family of storytellers…I try to lead into things with people knowing there's something cool around the corner. I try to have people think about the questions they want the answers to and eventually develop the power and confidence to teach themselves."
Clearly, Burden shows us how an MAE education makes amazing teachers both in and outside of the classroom.
Photo at top: Missouri Hall, one of the residence halls on the Truman State University campus.
---
More Stories
Visit Us
Request Info
Apply