Once a Teacher, Always a Teacher: A Conversation with Stephen Roberts ('68, '71)

After retiring from a successful teaching career, Stephen Roberts ('68, '71) now applies his talents to some equally rewarding opportunities in Washington, D.C.
By Nathalia Baum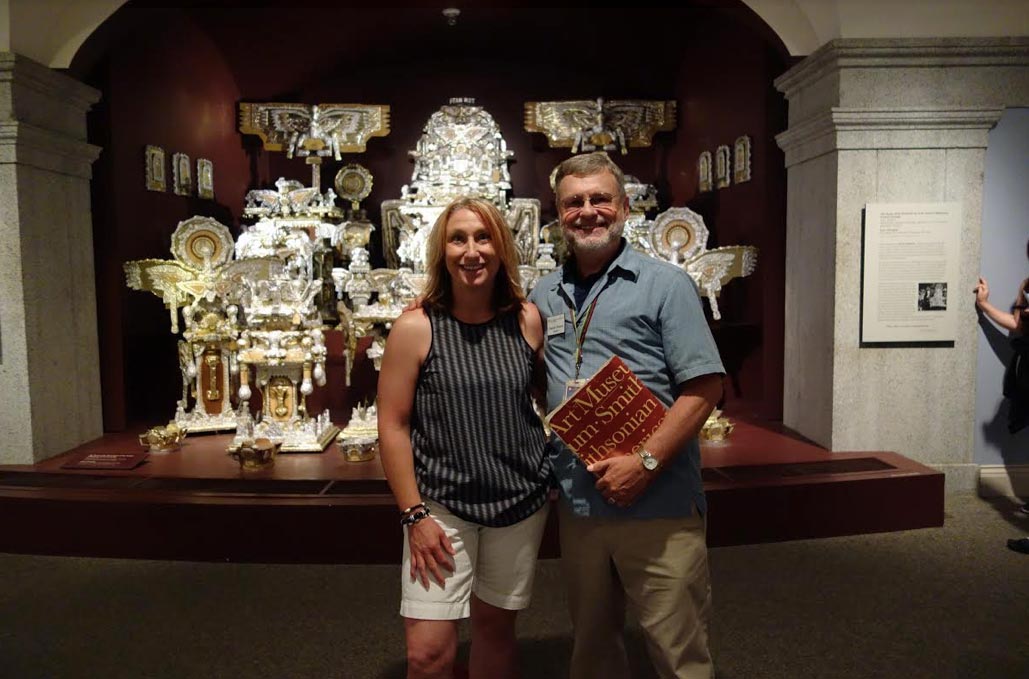 The Smithsonian American Art Museum (SAAM), Washington, D.C.  A group of students scamper down a flight of stone steps, their teacher trailing behind. The fall air is crisp and city sounds only add to the boys' and girls' buzzing excitement. Field trip days are revered for the opportunity to learn outside the confines of a classroom. Today is no exception. Fortunately, the students' guide was in a unique position to present the museum's fascinating information. Not only is he trained with high standards as a SAAM docent, but he was also trained as an educator at Kirksville State Teachers College—now known as Truman State University.
Stephen Roberts has been retired from teaching for eight years now, but his love for education has never wavered. Raised in Lancaster, Mo., Roberts describes the amazing moment he realized he wanted to be a teacher. "I remember where I was sitting in my seventh-grade classroom when, like John Wesley, I was strangely warmed with the realization that I would someday be a public school teacher," says Roberts. Given that all of his elementary and high school teachers were educated at Truman State University, it was the right place for him to enroll. The generous Regents Scholarship he was awarded also helped in his decision. 
During his time as a student at Truman, Roberts worked diligently toward becoming an educator and is grateful to those who helped him stay true to this path. As a student teacher at Kirksville Public Schools in 1968, Roberts encountered a challenging classroom that made him reconsider education. However, after confiding in Grace Reynolds, his advisor in elementary education, she adamantly told him he could not give up on teaching. "She replied, 'Mr. Roberts, I know a teacher when I see one, and you are a teacher.'" She made him promise to agree to one year of teaching in his own classroom.
As a student teacher…Roberts encountered a challenging classroom that made him reconsider education.
After an amazing year of teaching language arts and science to eighth graders in Schuyler R-1 Schools, Roberts was hooked. For 30 years, he taught in Missouri public schools until he moved to Chicago, Ill., where he was a sixth-, fifth-, and third-grade classroom teacher for six years. In 2004, he was offered a position in Washington, D.C., a city he had dreamed about teaching in since 1968 due to his love for the nation's capital. "It took me 36 years to get to D.C., but it was worth the wait," says Roberts.
On Sunday afternoons, the SAAM courtyard became Roberts's go-to spot for grading and writing lesson plans. When he eventually decided to retire after teaching for 42 years, he pondered how to use his time. His love for the SAAM led him to interview for a docent position. After the year-long training under high Smithsonian standards, he began giving tours two days a week.  Roberts is now going into his ninth year as a docent.
The SAAM isn't his only position, though. Roberts also ushers at Washington Nationals Baseball Park, Ford's Theatre (the site of Lincoln's assassination), and gives tours at the Newseum (a museum that promotes, explains, and defends free expression). Teaching still plays an important part in life, as well. Sundays are spent teaching an adult Sunday school class at the largest United Methodist Church in Washington, D.C.
When asked what advice he would give to future educators, Roberts says, "Anyone entering the field does not need to have all the answers.  They do, however, need to know how to find those answers when necessary." Respect is also important when interacting with students and parents. "When people believe you truly care about them, they will trust your professional judgment," says Roberts. Even outside of a traditional classroom and technically retired from the profession, Roberts is still using these skills and carrying on his love for teaching.  As he says, "Once a teacher, always a teacher!"
Photo at top: Roberts serves as an usher at Washington Nationals Baseball Park.