The Final Countdown
August 9, 2013
In just 7 short days, Centennial Hall will re-open and become home to nearly 300 students. Before the final product of these renovations is unveiled next week, we wanted to give you an update of the renovations at this point.
The lounges on 3rd, 4th, and 5th floors are almost done. This summer the lounges have been expanded and refinished to look a little more modern. The lounges will feature study and social space for residents to enjoy.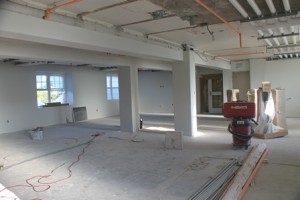 All that is left to complete in this lounge is the carpet and ceiling tiles.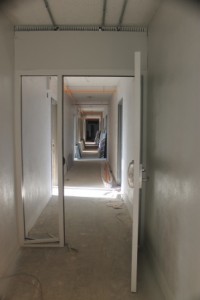 Noise cancelling doors have been added to the north and south ends of the lounges to keep the spaces quiet.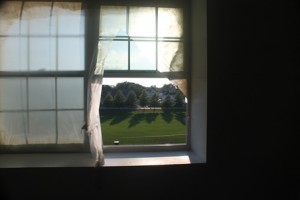 The lounges also feature new windows, but still have the same pretty views!
If you head down a few floors to the dining hall you will see some significant changes to the space. Now, I must warn you, what you are about to see is completely AWESOME. Are you ready?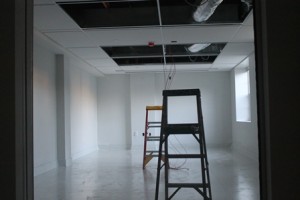 The Private Dining Room is waiting for ceiling tiles and tables and then will be complete.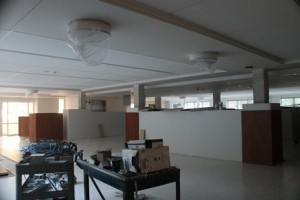 The seating area is just waiting for its new booths and tables.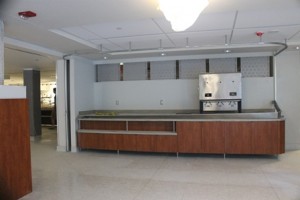 One of the self-serve stations within the seating area is ready for use.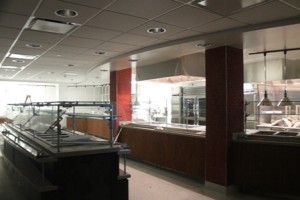 The new serving area in the Dining Hall. Doesn't it look great?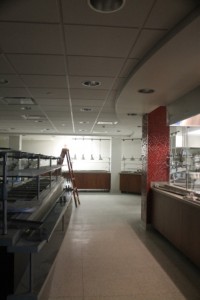 Another portion of the serving area.
Last, but certainly not least, if you head down one more floor to the foyer and main lounge, there is more work being completed.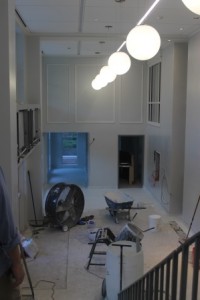 The foyer is in the process of getting a new floor.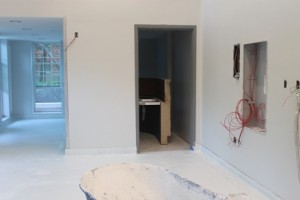 The hall desk is almost complete. To the left of this picture is the new mailbox alcove in the foyer.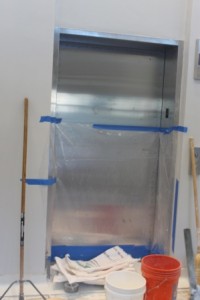 The new foyer elevator is also receiving its final touches.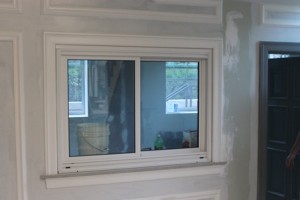 Remember last year's hall desk? That space has been updated and will now be used for storage!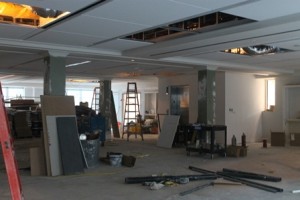 The main lounge is nearing its completion. All it needs now is paint, carpet, and a few more ceiling tiles!
So there you have it. With a week to go, there is still a little bit of work to be done. Centennial Hall staff has now arrived and can't wait to see all the new and returning bananas' reactions to the renovations!
But, wait! For this post only, we have the first sneak peak to the renovations that have begun on the north side of the building. Want to see it?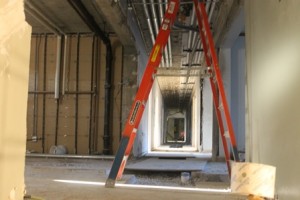 This is the 1st floor on the north side. New piping is being put in the floor.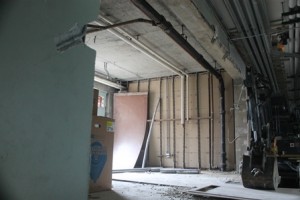 Remember the public bathroom? Well, it is no more. This space will soon be a quiet study lounge for residents!