Elevators, Ramps, and Sprinklers Oh My!
October 26, 2012
It has been a very busy, loud, and productive month and a half in Centennial. Our contractors have been working hard and getting quite a bit accomplished.
The new elevator in the main foyer has made significant progress. The large hole in the wall is no longer a hole. It is now a cement-brick enclosed area.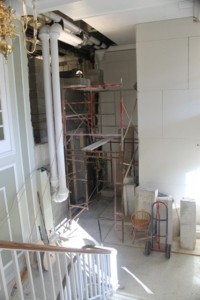 The floor length view of the new elevator shaft.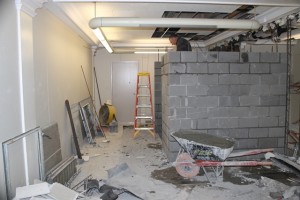 The elevator shaft enclosure are the bricks to the right in this picture.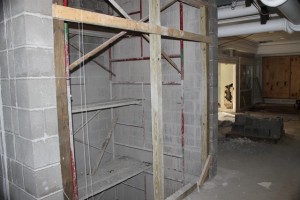 The current insides to the elevator enclosure.
This new elevator will make the main lounge, primary entrance, and dining hall more easily accessible for all residents. It should be completed by August 2013. In addition to a new elevator C-Hall, we will also have a renovated main lounge by August 2013!
There will also be a new chair lift on the south side of Centennial.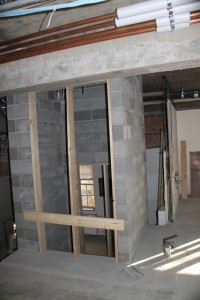 The chair lift will be able to assist students in getting from the ground level of the main lounge to the south 1st floor hallway.
Another large project happening on the south end of the building is a new ramp to the south elevator. This will be located in the rear of the building near the south elbow. The ramp will make the elevator accessible from the outside.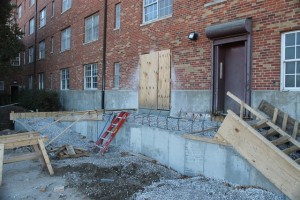 When completed, there will be a ramp and stairs leading up to the south elevator.
One of the biggest undertakings happening during the C-Hall Renovations is the addition of a fire sprinkler system. This addition will continue to make C-Hall a safe place to live.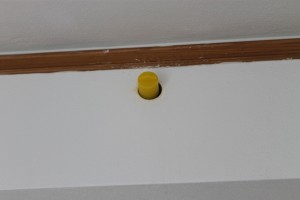 An example of the preliminary piping for the sprinkler heads. There will be at least one sprinkler head in each room.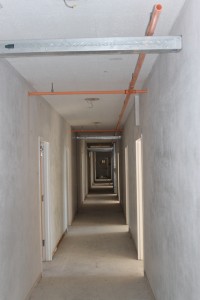 The orange piping along the ceiling is the water pipes for the new sprinkler system.
There has also been progress elsewhere on the south side.
This is a recent picture of the 1st floor hallway. The last time we took a picture of this there were no interior walls. Now, all of the walls are being remade. When renovations are complete  this section of the hallway will be home to staff offices, the hall director apartment, and storage.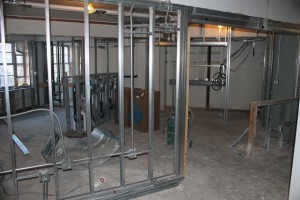 There will be an identical laundry room on the 2nd floor of south Centennial. You can see that all the piping and frame work for the laundry room have been completed.
It is great to see so much progress in such a short amount of time. What are you most excited about for the renovations?