A Little Bit of Progress
September 7, 2012
The last time I posted, C-Hall was one very empty building. But, in the  few short weeks since, the North Side of Centennial is now bustling with students.
And with all of those students comes one thing: lots and lots of laundry. But, don't you fret, Centennial was prepared….with a BRAND NEW LAUNDRY ROOM!
This is what the laundry room looked like about a month ago: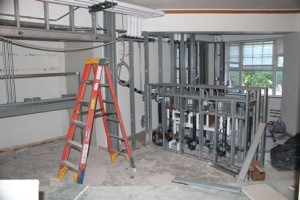 Nowadays, it is looking much more, hmm, how do I put this?
Modern?
Clean?
Functional?
I'll let all of you be the judge of those things. Without further ado, I give you the Centennial Hall Laundry Room.
(Here would be an appropriate place to insert a drum-roll)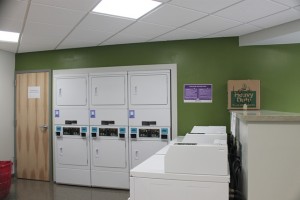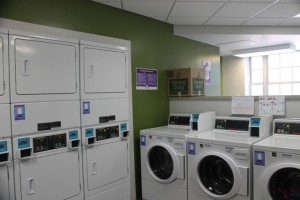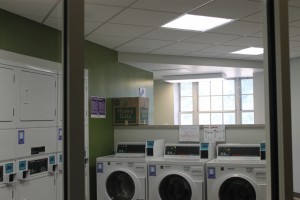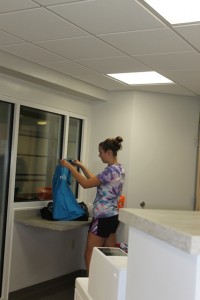 Emily, a Centennial Hall Resident, utilizes the new laundry facilities.
I must say, I think our new space looks pretty spiffy. It is complete with 6 washers, 6 dryers, 1 sink, and 1 large counter top. Did I mention it is also air-conditioned? 
If you want to get a general idea of what post-renovation Centennial is going to look like, take a look at the laundry room. It is pretty representative of what you can expect next year on the south side of the building.
Don't worry, more has happened in Centennial than the laundry room being finished. There has been plenty of progress elsewhere in the building too.
Remember the small pit that will become our new elevator?  It isn't so small anymore. In fact, it scales the entire length of the foyer (and a little bit into the ground).  Here is what it currently looks like: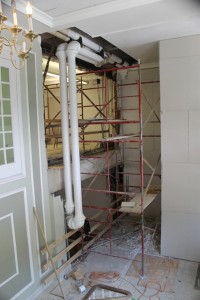 Pretty neat, huh?
Well, that's all for now folks. What are your thoughts on what you have seen so far?