Welcome to the Centennial Hall Renovation Blog
July 31, 2012
Welcome to the Centennial Hall Renovation Blog!
It is finally C-Hall's turn to get a face-lift. That's right folks, this old, brown banana will soon be yellow again.
C-Hall has been a very busy place this summer. Maybe almost as busy as it has been dusty. But all of the dust is paying off and we are almost ready for move in (only 19 days, but who's counting?).
The entire South side of the Hall has been shut down for the 2012-2013 school year. Over the next year, this half of the building will be renovated and will be complete by next school year.
The North side of the Hall has had its fair share of work done this summer as well. There will be a brand new laundry room in 2 North (Hayden House) this school year. Also, construction has started on the new elevator that will be located in the main lounge.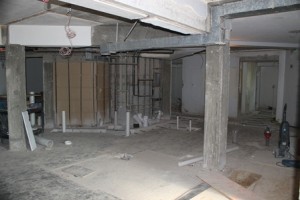 This is what 1 South currently looks like. Eventually the first floor will be home to offices, housekeeping storage space, and student rooms.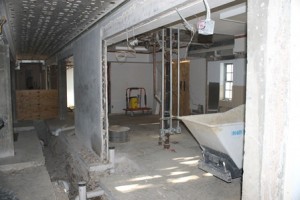 Another view of the first floor.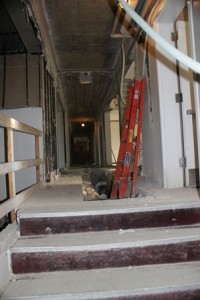 The stairs leading to the 1 South hallway. When construction is complete these stairs will also have a chair lift to make the space more accessible.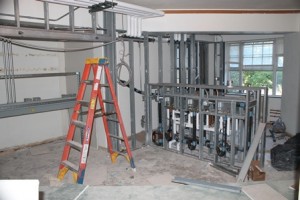 The new water line hook-ups for the laundry room in Hayden House are almost ready to go.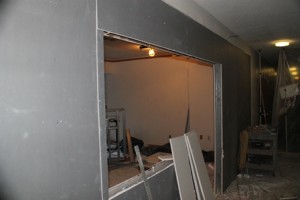 Drywall is starting to be installed for the new laundry room.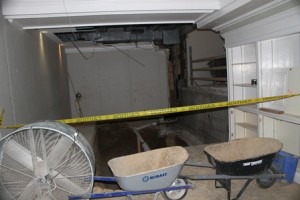 New elevator construction! The elevator will be located in the main lounge. This elevator will be able to take students from the primary entrance of C-Hall down to the main lounge and up to the dining hall.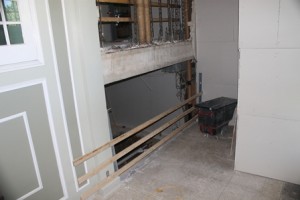 Another view of the elevator construction.
So, there you have it. Lots of progress has been made this summer, but there is still a long way to go before C-Hall looks like new.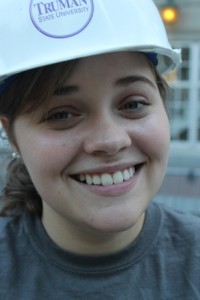 By the way, my name is Megan Swingle. I am the Centennial Hall Director for the 2012-2013 school year. I will be updating you on the renovation progress as it happens. I would love to hear from bananas old and new  on your thoughts about all of the changes!
Until next time, GO BANANAS!