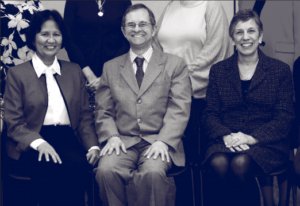 Contributions to two funds previously established through the Truman State University Foundation have dual benefits — they enhance the Truman State University Nursing Department, and they honor three highly respected members of the Nursing Department who are retiring this summer, Dr. Stephanie Powelson, Dr. Stephen Hadwiger, and Mrs. Mariquit (Kit) Hadwiger.
Dr. Powelson and her husband, Tim Tucker established the Powelson/Tucker Nursing Lab Fund in 2010, which is intended to encourage the growth and development of the nursing lab at Truman.
The Hadwigers established the Stephen and Mariquit Hadwiger Endowed Study Abroad Scholarship earlier this year. This fund is intended for nursing majors at Truman who are studying abroad, with a preference for nursing majors who are studying abroad in a program sponsored by the Nursing Department.
Want to learn more about these funds? Check out these links:
Make a gift