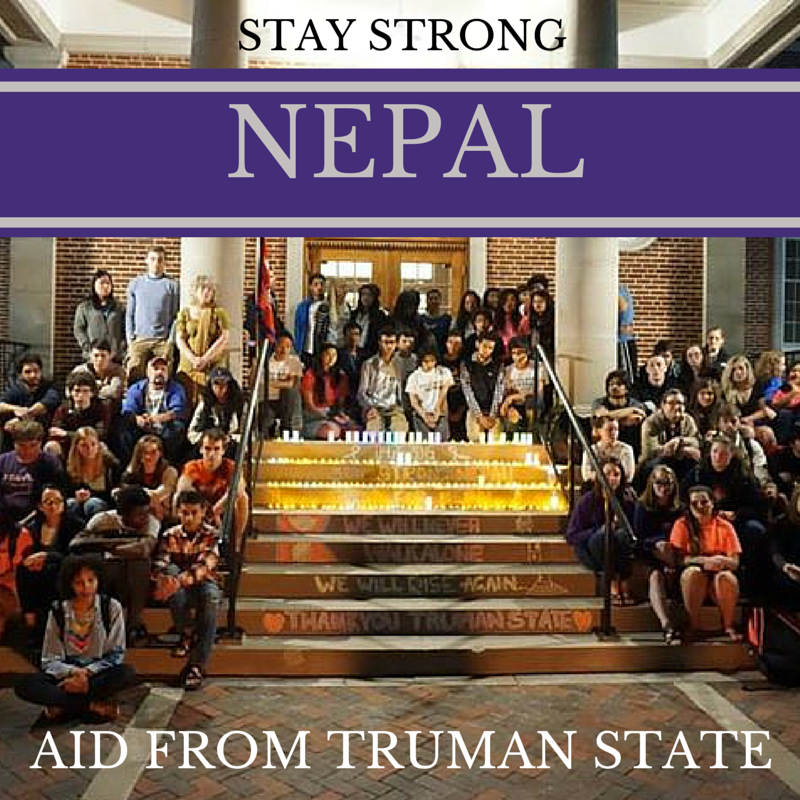 ---
Over 8,000 dead in Nepal. 14,000 injured. Nearly 400,000 homes destroyed. These are not just numbers. These are lives that have been forever changed by the devastating earthquake of April 25th. This earthquake at 7.8 has been the strongest natural disaster to hit the country in nearly a century. News of this cataclysmic event traveled quickly worldwide, prompting shock, solidarity, and activism across the globe.
Currently, Truman State University is home to 39 Nepalese students. Upon hearing news of the earthquake, many of these students expressed feelings of frustration and helplessness, due to the more than 7000 miles separating them from their families. Thanks to features such as Facebook's Emergency Check-in and free calling to Nepal sponsored by AT&T, Verizon, Sprint, and Skype, students were able to get in contact with their loved ones throughout the following week. Fortunately, no Truman students reported losses of immediate family members. Several families, however, had their homes and properties destroyed.
Tragedy is often followed by hope, and this is the case for Nepali students at Truman.  In the face of this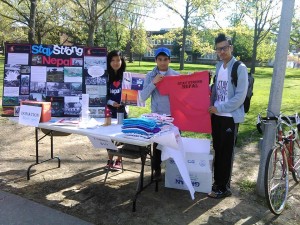 destructive tragedy, these students, along with the Truman State University community, worked hard to raise awareness and funds for relief efforts.  Namaste Nepal, an organization of Nepalese students at Truman, dedicated their time and efforts to holding fundraising events across campus. The organization set up a Nepal Awareness table in the middle of campus, where students and faculty could learn about the earthquake and contribute to the relief fund, either through donations or by purchasing a "Stay Strong Nepal" t-shirt. Collection boxes were also placed in the Center for International Students and the Multicultural Affairs Center. The group set up a gofundme.org page and worked with their advisor to set up opportunities for students to tell their stories, support each other, and receive support from the Truman staff, faculty and students.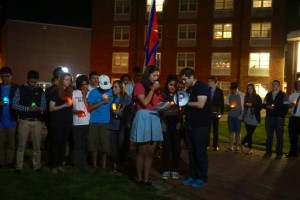 On Wednesday, April 29th, Namaste Nepal was joined by Truman students, staff, and members of the Kirksville community in a candlelight vigil in memory of those who lost their lives in the earthquake and in solidarity with those who survived and must rebuild. Students looking out of their windows that night could see Nepali flags floating through the darkness, emblazoned by flickering candlelight. Students and Kirksville residents alike participated in this solemn march through campus to demonstrate that Nepal and the Nepali students do not stand alone in facing this crisis.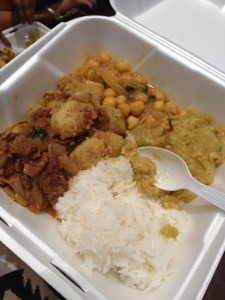 On Friday, May 1st,  Namaste Nepal held $5 a plate dinner featuring traditional Nepali food with all proceeds donated to the relief fund. Through their efforts, Namaste Nepal has been able to raise thousands of dollars to help those most impacted by the earthquake.
Support has come not only from within the campus, but also from Truman Alumni. After receiving a number of emails from Truman alums asking how they could help, the Office of Advancement and Alumni set up the Nepal Emergency Relief Fund to provide financial aid for Truman's current Nepali students at a time when their families will be unable to support their children's education.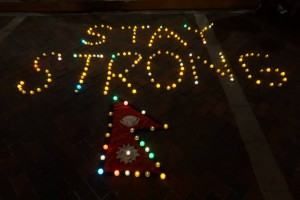 All of these efforts and more have provided emotional support to Truman's Nepali students at one of the toughest points in their lives.  "We don't feel alone, we don't feel weak," said Roshan Shrestha, a photojournalist with the Center for International Students. International Student Advisor, Bri Rhodes, said, "The advisor to Namaste Nepal, Emmanuelle Camarillo, has been exceptionally supportive of the Nepali students.  He has essentially been on-call for them 24/7 since the news first came.  The faculty has been very understanding of the trauma these students experienced one week before finals and have made many adjustments to help them complete their semester.  The staff has reached out to these students and helped them process and begin to cope with the shock.  Overall, I feel that the Truman community has been able to help make a real difference in the Nepali students handling of this crisis."
While the regular school semester is now over, the people of Nepal are still in need of aid. With another 7.3 earthquake striking Nepal on May 12th, the Nepalese people are in need now more than ever. We here at the CIS encourage everyone to reach out in support the people of Nepal and their families abroad.  Keeping them in your hearts during this difficult time. Donations can be made through Namaste Nepal at http://www.gofundme.com/HelpNepalStandTall, or at redcross.org.
Did you like this article? Get the Truman State University's International blog updates by subscribing to our email. Have questions? Feel free to send us an email at intladmit@truman.edu. We're always excited to talk to new students and counselors!
---
---
---