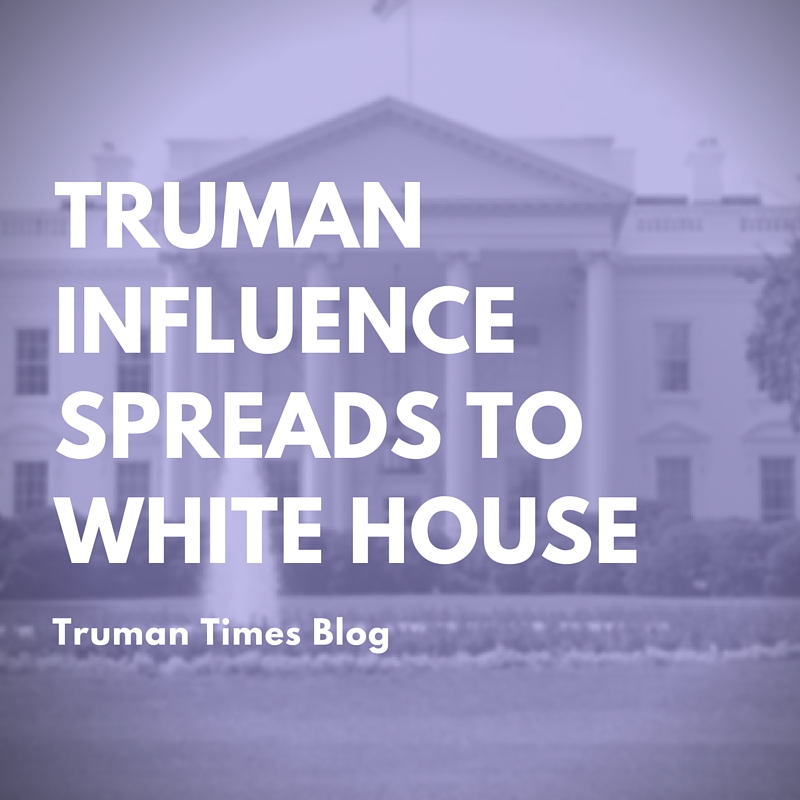 ---
The influence of Truman State University has spread far in the years since its foundation. What was once a local college for teachers in the American midwest has now become home to thousands of students from across the country, and hundreds more from nations around the world. Thanks to job opportunities, internships, and travel after graduation, Truman students and alumni can be found in influential roles across the globe. Last fall, Truman-educated students made their way into our nation's capital.
Renee Baharaeen, Elisabeth Blotevogel, and Abby Wood earned positions with the White House and had the opportunity see how the government works from this country's political center.
Even as interns, they were able to make real contributions during their time in Washington.
"I was sitting at my desk, and one of my bosses emailed me an assignment," Baharaeen said. "At the end of the email, she explained that what I was doing would be part of the information used to brief the president. It was such a cool opportunity, but I was also incredibly nervous."
Only about 150 students from around the nation are picked for White House internships during each semester. The path to the White House for the three Truman representatives was paved by alumnus and administration official Corey Then ('02) who has worked as the Special Assistant to the President and Economics Team Lead for the Office of Presidential Personnel for the past year. He previously served as a Deputy Associate Counsel at the White House.
"I think the White House will benefit from having Truman students here because they are the type of intellectually curious, driven – but humble – people we need to have in government," he said.
Then's immense respect for the White House is fairly new compared to his admiration for Truman. Coming out of Iowa, he was the first person in his blue-collar family to attend college. During his senior year of high school, his mother lost her job, making financing his education a difficult task. Fortunately, he earned a Pershing Scholarship through the University.
"Truman gave me an extraordinary education for free," Then said. "It's also where I met my wife and some of my best friends. There's no real way I can ever pay all of that back, but I hope to help spread the word about what a great school Truman is wherever I can."
Then is already returning the favor, as evidenced by the immediate influence his efforts had on the three interns. Although they worked in different offices, they each had similarly positive experiences.
"After this experience, I definitely want to continue to work in public service," said Blotevogel, who interned for the Office of Presidential Correspondence. "It has been kind of inspiring to work with people who are passionate about helping others. I think that kind of drive only comes from understanding that one is here to serve the people. There are so many opportunities in government outside of policymaking that can have an impact."
A recent graduate of Truman, Wood ('15) was inspired by her work in the Office of Public Engagement and Intergovernmental Affairs.
"I was constantly amazed by the people I worked with and the events that occurred each day," she said. "It is a remarkable feeling to watch history being made and an even greater feeling to be a part of it."
Wood plans to stay in Washington to pursue a master's degree in public administration at American University. She would like eventually to work for a non-profit or think-tank.
Baharaeen interned for the management team in the Office of Presidential Personnel and now has her sights set on making strides in the education sector. She hopes to advocate for low-income students by providing more support in pre-collegiate schooling systems, as well as strengthening access to higher education. Regardless of her specific role, she plans to serve her community, whether it is on the local, state or national level.
"I want to find ways to offset so much of the cynicism surrounding politics and motivate the public to take action on pressing issues," Baharaeen said.
Between the values instilled at Truman and the inspiration from working for one of the country's most influential institutions, Baharaeen, Blotevogel and Wood seem positioned to do great things in the future.
Wherever Truman students take their degrees, they may do so knowing that they are creating pathways for future generations to follow.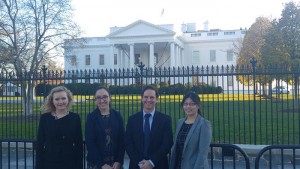 Truman students Elisabeth Blotevogel, Renee Baharaeen, and Abby Wood take a picture with alumnus and administration official Corey Then in front of the White House. The three students recently completed internships at the White House. Pictured, from left, Blotevogel, Baharaeen, Then and Wood.
Did you like this article? Get the Truman State University's International blog updates by subscribing to our email. Have questions? Feel free to send us an email at intladmit@truman.edu. We're always excited to talk to new students and counselors!
---
---
---