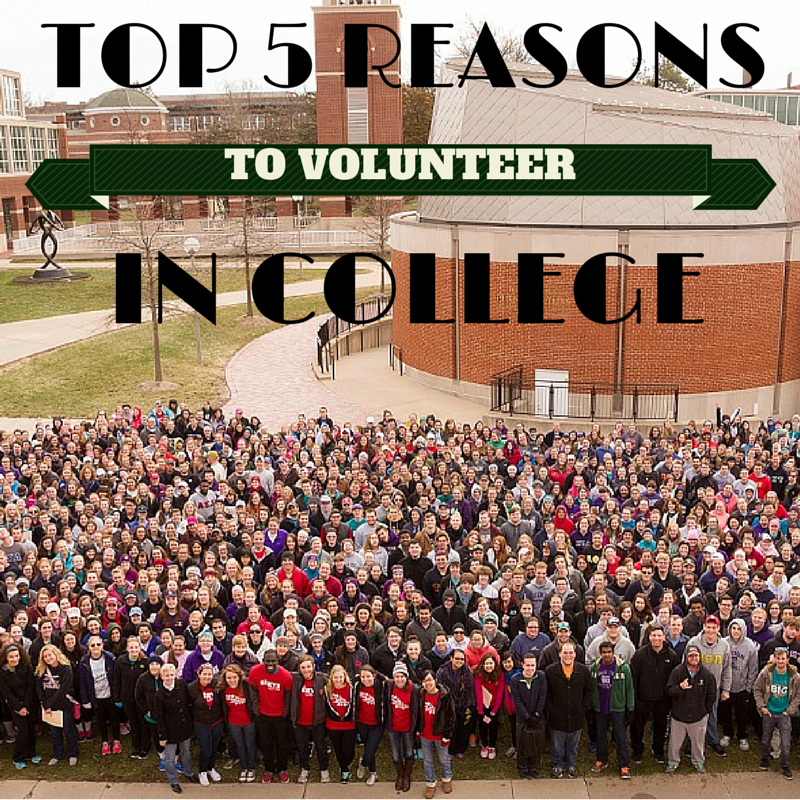 ---
     College students may find themselves overwhelmed at times, trying to find time to balance  homework, classes, club activities, exercise, and a social life. Adding service work to that to-do list may not be high on students' priority lists. Here are a few reasons why it should be.
1. Giving Back
     Service work, by definition, should be focused on helping others first. Many students, get feelings of personal satisfaction by knowing that they've helped contribute to the growth and betterment of their community. Service is an easy way to make a difference in the lives of those who need it.
2. Personal Growth
     Doing service work in your community can help develop unfamiliar skillsets, which can one day be applied to careers. Group organization, team leadership, and professionalism in social settings  can all be learned through many kinds of service, and can be applied to most jobs. This can cause students who volunteer to  feel greater levels of responsibility and maturity, preparing them for the working world.
3. New Connections
     Service work provides an excellent opportunity to meet new people. Through service, one can meet a variety of people, with the potential to form lasting friendships from the shared experience. For the more business-oriented, volunteer work is an easy, yet effective way to expand professional networks by making new connections, and  could one day lead to job opportunities!
4. Resumé Booster
     Employers aren't just looking for good grades; many companies view a record of service as an impressive trait for job applicants to have. It shows that an applicant is goal-oriented, generous, good with teamwork, and capable of following instructions. Employers will be even more impressed if the service performed is related to the job in question.
5. It can be fun!
     The Big Event is an annual event at Truman State University. Each year, hundreds of students volunteer to spend their day around Kirksville, Missouri, performing a variety of service projects. Service during these events has ranged from doing yard work and home maintenance for local residents, to helping construct buildings and playgrounds. This year, the 14th annual Big Event had over 1,100 students volunteer to participate in community service. Students reported enjoying spending their time with their friends, knowing that together, they were helping to make a difference in their small town.
Did you like this article? Get the Truman State University's International blog updates by subscribing to our email. Have questions? Feel free to send us an email at intladmit@truman.edu. We're always excited to talk to new students and counselors!
---
---
---