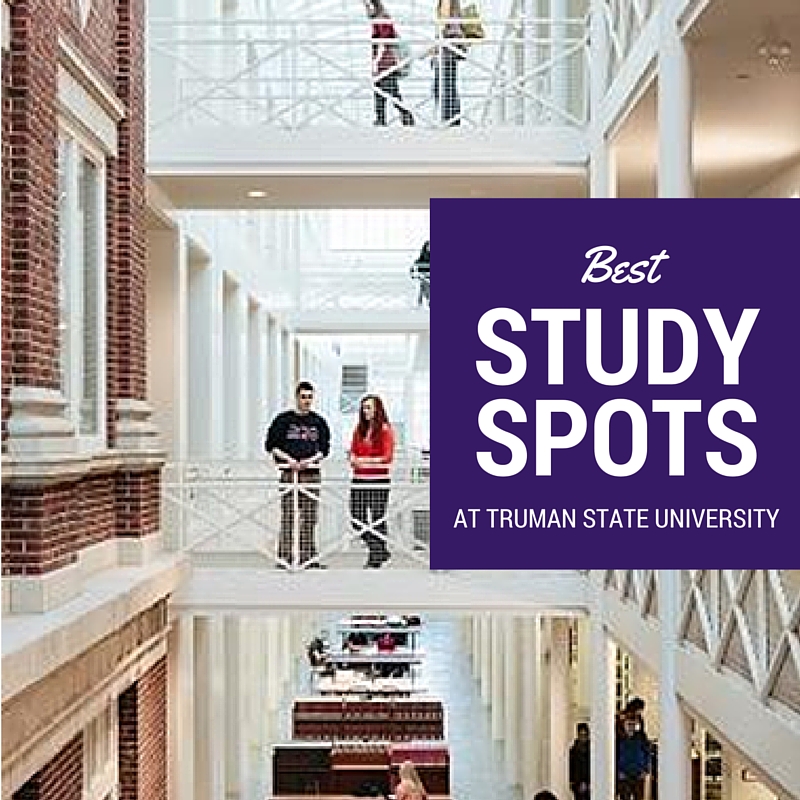 ---
Finals are just around the corner here at Truman State University!  Truman students take their grades very seriously, and studying for final exams is a top priority. Having a place where you can focus your attention is a valuable asset when writing a paper or preparing for an exam. Here is a list of some of the places around campus that Truman students love to study.
The Library
This is by far the most popular place to study, and for good reason!  The Pickler Memorial Library offers extensive archives to use in your research and studies. Serious students seek out the quiet solitude of the library.  Between the reading rooms and study bubbles, you will find plenty of students studying all day.  Alex, a sophomore student, finds the mood in the library to be very motivating. "You're in an environment where everyone else around you is studying, and you feel more motivated to study", says Alex.  If you're getting tired, pop down to the first floor for a coffee break! The first floor also features collaborative learning centers, where students often meet to work on group projects. Along with the archives and study nooks, the library also offers plenty of multimedia resources, including computers and printers for students to use.  To access the onlne archives or learn more about what the Pickler Memorial Library at Truman has to offer, visit http://library.truman.edu/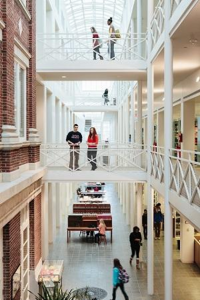 Dorm Lounges
While studying away from home is often a good idea to avoid distractions, the Truman dormitories offer plenty of space to spread out into a study group with friends. Late at night is an especially good time to utilize these spaces, as fewer students will be entering and exiting the building. If you don't own a laptop, don't worry! Each dormitory has numerous open-access computers ready for student use.
The SUB Hub
This is a big open room located in the Student Union Building.  You will find plenty of students in the Hub, day and night! Don't let the crowds scare you away, though. Jamie, a senior student, actually likes the noise!  "I like studying here because all the white noise in the background helps me to focus more!" says Jamie.  There are many tables and booths, and it is conveniently located right next to the food area, in case you are in need of a quick snack.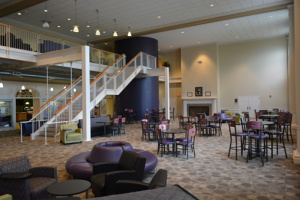 The "Taj"
The north side of Baldwin Hall is a great place for studying and group work.  This place is not usually very busy, so there is plenty of room for you to spread out your books.  The quiet halls and simple design make for a relaxing environment, and there are plenty of comfy chairs and round tables on which to do your work.  The big windows let in lots of sunshine to keep you awake, and there are lots of electrical outlets for you to charge your laptop!  Go ahead and explore all three floors to find the quietest place!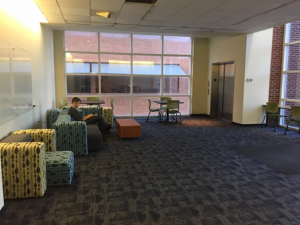 Upper Violette
Located above the mass lecture room in Violette Hall is Upper Violette.  There are lots of couches and tables for you to use here.  Students love to study here between classes and to do group work here, because of it's open environment.  This place gets pretty busy during the day because of its central and convenient location, but it is usually quite empty in the evening when classes are over for the day. Another benefit offered by studying in Upper Violette is its proximity to the offices of many Truman professors. If you are having trouble with an assignment, stop by during their visiting hours for some words of advice!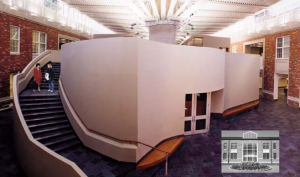 Did you like this article? Get the Truman State University's International blog updates by subscribing to our email. Have questions? Feel free to send us an email at intladmit@truman.edu. We're always excited to talk to new students and counselors!
---
---
---