---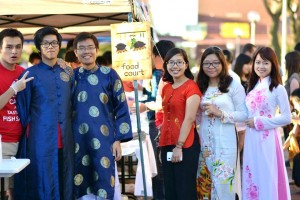 What better way to end the month of September than with a wonderful interactive display of Vietnamese traditions, cuisine, and culture? Truman State University's Vietnamese Student Association (VSA) recently held their first ever cultural event, "Across Vietnam."
VSA was officially chartered last spring, and since then, this student organization has brought much attention, attraction, and interest to Vietnamese culture.
Across Vietnam was held in a common outdoor area on campus, where students often gather next to the university fountain. In just a few hours leading up to the event, the VSA had transformed this part of campus into a Vietnamese holiday market filled with games, prizes, activities, food, and more! People were soon lined up to taste all of the home-cooked dishes and learn about a beatutiful part of Vietnamese culture.

 "This event is important because the Vietnamese student population is the second-largest among the International students at Truman," said Junior Tuan Dang, Executive Chief of VSA. "A big event like 'Across Vietnam' will help others see the strong representation of the Vietnamese students on campus."
In the last three years, Truman's Vietnamese student population has tripled. The VSA has not only become a place of encouragement for many of these students, but also a family. Members are hard-working, passionate, and excited to share their culture and will continue to do so with many more events to come!
---
---
---