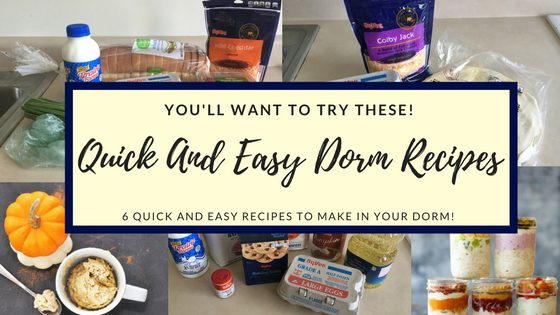 ---
While there are tons of amazing recipes out there, you can't make them all in a tiny 14×11 room with only 10 minutes to spare before class. Believe it or not, there are quick and easy recipes you can make right in your dorm room for when you are running a little late, or when you are feeling a lot lazy, and you are just so tired of all the ramen and cafeteria food. All you need is a microwave, a few ingredients, and a mug!
 

---
 

One Minute Microwave Quiche
If you need something quick and easy for breakfast, or even for a yummy snack, microwave quiche is the way to go!
What you need:
One large egg
Four grape tomatoes
Bread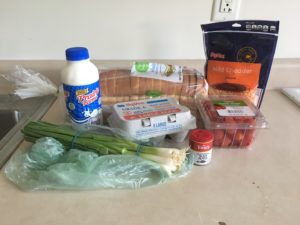 Milk
The cheese of your choice
Salt
Pepper
Your choice of spices
For this recipe, you will need to cut the tomatoes and tear up the bread for the quiche. Then crack the egg into your mug and add milk as desired. Then you'll add some salt and pepper and whisk the egg with a fork until it looks nice and scrambled. After that throw in some cheese, add your pieces of tomato, and add some green onion (or regular onion). Once everything is added and mixed in the mug you will put the mug in the microwave and cook it for 1 minute or until the egg is completely cooked. Now you have an amazing microwave quiche!
Overnight Oats
This recipe is great for when you are running behind schedule, but you need a nice breakfast to start out your day so you don't disturb the class with a rumbling stomach. Keep in mind for this recipe you can use whatever fruit and nuts you want. There is also a vegan option that substitutes honey with agave nectar or maple syrup and the Greek yogurt for your favorite vegan yogurt.
What you need:
1 cup old fashioned oats
1 cup vanilla almond milk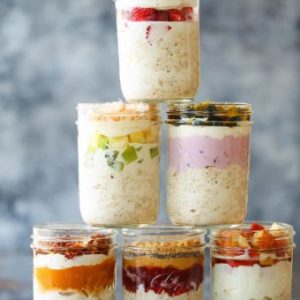 2 organic apples
2 tablespoon honey*
1 teaspoon lemon juice (freshly squeezed is optional)
1 cup plain of vanilla Greek yogurt*
1 cup of pomegranate seeds (optional)
4 tbsp toasted slivered almonds (optional)
For the overnight oats, you will combine 1 cup of oats and 1 cup of milk in a mug. While the oats are in the milk, you'll peel the apples and cut them how you would like, and then add the 2 tablespoons of honey and 1 teaspoon of lemon juice. Then mix it well. The next step is to add the 1 cup of your choice of yogurt and the apples to the mix. Make sure you mix it well because this is when you put it in your mini fridge to set overnight! When you take the oats out the next morning you have the option to add pomegranate seeds and almonds (if you have time). Enjoy your tasty overnight oats!
Easy Egg and Cheese Burritos
Try this recipe when you need a quick lunch in between classes, or for those times when you don't feel like walking to the nearest dining hall on campus.
What you need: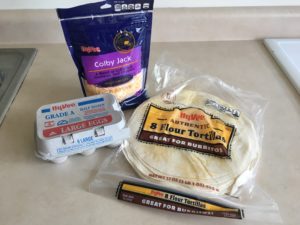 Tortillas
Eggs
Cheese
To make these burritos all you need to do is scramble the eggs in a bowl and put it in the microwave for 90 seconds or until they are completely cooked. Cut the cooked egg in half and put the egg and some cheese on a tortilla and wrap them up. Then you will need to put the wrapped egg and cheese burrito in the microwave for 20 more seconds to melt the cheese inside. Then enjoy!
Ramen Noodle Stir Fry
This recipe is for when you have a little more time on your hands. It is a new and improved twist on the normal ramen noodle dinner!
Click here to find out how to make this amazing recipe. It takes about 30 minutes to prep and cook so make sure you have the extra time!
Microwave Chocolate Chip Cookie In a Mug
You are sure to make everyone jealous when you have the delightful aroma of homemade chocolate chip cookies coming from your dorm room!
What you need:
¼ cup all purpose flour
1 tablespoon butter
1 tablespoon white sugar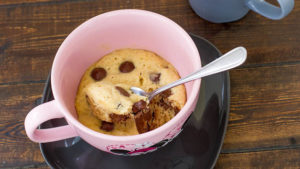 1 tablespoon dark brown sugar
3 drops of vanilla extract
1 egg yolk (do not use egg white)
2 tablespoons of chocolate chips
Pinch of salt
For this recipe, what you need to do is microwave the butter in a mug or bowl until it's soft (you'll want to cover this with a paper towel so it doesn't explode and make a mess in your microwave). After that, you will mix in both of the sugars, vanilla, and salt. Then you will add the egg yolk and flour. Then mix it well together with the chocolate chips. You will need to cook this in the microwave for 40 seconds and check if it's done. If not stick it back in the microwave for 30 seconds more until the cookie is done. Then taste your delicious homemade chocolate chip cookie.
Pumpkin Spice Mug Cake
With the fall season coming up, America is notorious for making anything and everything that tastes like pumpkins and spices, so it's only fair to stick this recipe on the list. This may include quite a few ingredients but it only takes a total of 5 minutes to make.
What you need:
4 tablespoons flour
4 tablespoons sugar
¼ teaspoon baking powder
¼ teaspoon pumpkin pie spice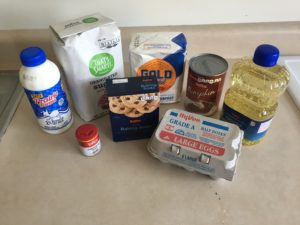 2 tablespoons pumpkin puree
1 egg
2 tablespoons milk
3 tablespoons vegetable oil
Dash of salt
Dash of vanilla extract
All you have to do is mix the dry ingredients together in a mug (flour, sugar, baking powder, pumpkin pie spice, and salt). Then add the wet ingredients to the mix (pumpkin puree, egg, milk, vegetable oil, and vanilla extract). After that, you stir the mix until it is smooth and put it in the microwave for 1 to 2 minutes. Not only are you going to have an amazing pumpkin spice cake to enjoy, but your room is going to smell amazing and it will have everyone asking you what you are baking.
Hopefully you find these quick and easy dorm recipes useful. Now go wow all your friends with your amazing dorm-cooking skills!
---
---
---