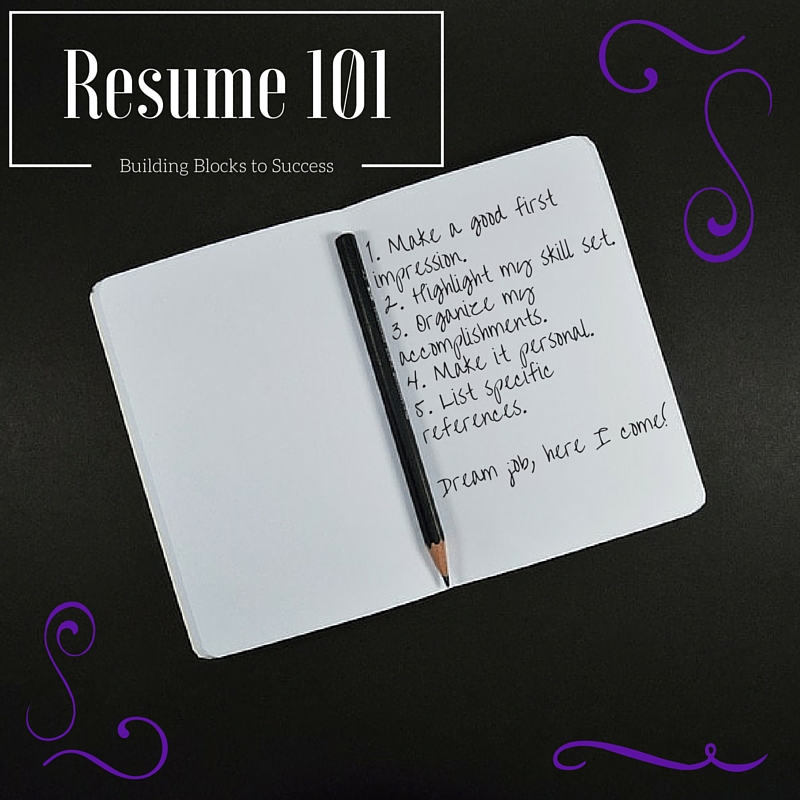 ---
You can see it now. Landing your dream job and getting paid to do what you love seems so close. All you need to do is make a fabulous first impression. You've worked hard to get here, but you have to convince them that you deserve this job. That's why a well-constructed resume is crucial to your future. Here are some stellar tips to propel you forward to success.
Make a good first impression. Employers will have multiple resumes to look through, so craft yours to stand out. Use a clean, professional font, and avoid typing too small or too large. Be sure to look at sample resumes online and choose a design that fits the impression you want to make. Think about what you want someone to know first about you. Your name, your talents, and important experiences in your life are probably at the top of the list. Include contact information, showing your openness to future connections, and list your personal website or blog if it will add to your professional credibility. Also, make sure to proofread your final draft and have a knowledgeable friend read it as well. Do not let errors in spelling and typing take away your chances of being adequately considered.
Highlight your skill set. Whether it's public speaking, organization, or computer skills, share your talents in a way that proves your ability to flourish in the desired position. If you are applying for a writing job, think about listing poetry, fan-fiction writing, or theatre in your repertoire, if applicable. Additionally, be prepared to defend the skills you list and how they will be useful to you in your career. Be sure to talk about what makes you unique. Are you optimistic, punctual, goal-oriented, or good at multi-tasking? How do others describe you? Are you known as creative, hard-working, strategic, or adventurous? Use strong, purposeful adjectives when describing yourself.
Organize your accomplishments. There are several options when it comes to formatting your resume, so choosing the best order of information is an important decision. Decide how you want to display your work experience and be consistent. If you want bullet points under one heading, don't use numbers under another. Create a logical flow of events. This could mean organizing your work history by year, or ordering the companies you have worked for by location. The goal is to present your story in an attractive way, where the reader (your potential employer) recognizes the accomplishments you have made. Also, if your resume demonstrates your skills in logic and organization, it could increase your appeal as a candidate.
Make it personal. Customize your resume as needed when searching for jobs. For example, Francis is a business major applying for two different jobs, both of which have benefits. One is the position of a local store manager, and the other is an internship with a blossoming small business, focused on environment-friendly products, in another state. Both are recognized stepping stones to Francis' goal of being a successful, credible, and well-known person when it comes to business acumen. However, the difference lies in the focus of the two businesses. For this reason, Francis created two different resumes. One resume highlighted Francis' accomplishments in high school, citing leadership roles maintained in various groups, then noted the years of commitment to a local restaurant, working initially in delivery and eventually being promoted to shift manager. This progression of events showcases leadership skills and drive for excellence, which paints Francis as the perfect candidate for a position as a local store manager. They want someone dedicated and reliable, so drawing upon experiences that prove leadership is a strategic choice. However, when applying for the internship in another state, Francis knows they are looking for a young and passionate professional who will take their business to the next level through advertisement. Also, it's important to consider the ethical purposes the company was founded on and demonstrate knowledge and care for such values. Francis does just that by listing projects and student organizations he participated in whose focus was eating organic, living green, raising awareness about pollution, and conservation of nature. Participation in those efforts lends Francis credibility when talking about environment-friendly approaches. Francis also included debate skills and creative strategy in the personal skills section. These will be useful tools when helping expand the growing business, making Francis an ideal asset to the company.
In the same way, you can add or delete information about yourself and your experiences, based on the position you are seeking. Keep what you share relevant and engaging, convincing your potential employer that you are the person they need.
Provide specific references. When listing references, let the most impressive names take precedence. Keep in mind that any affiliation you have with well-known or respected companies will add to your marketability in the workplace. Letters of recommendation should also be presented when available, to confirm the references and show how valuable you are as an employee. If your favorite author, celebrity, or someone you admire makes a recommendation, that affects your decision. Similarly, presenting evidence that others believe in you, will increase the probability of a new employer believing in your potential.
In review, a resume is an important tool for demonstrating your value in the workforce. It is also very competitive, as a large number of resumes may be presented to your potential employers. To keep yours exemplary, be careful when designing it to create a good first impression, showcase your skills, stay organized, customize as needed, and list good references. Believe in yourself and pursue your dreams. It's time to take your career to the next level!
Did you like this article? Get the Truman State University's International blog updates by subscribing to our email. Have questions? Feel free to send us an email at intladmit@truman.edu. We're always excited to talk to new students and counselors!
---
---
---