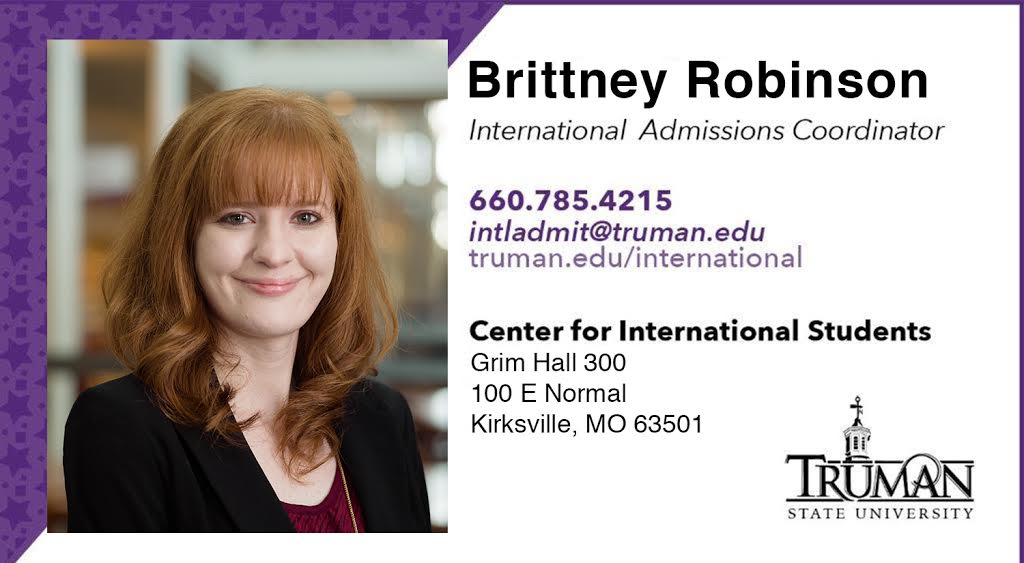 ---
Dear Colleagues:
Truman State University would like to welcome Brittany Robinson into the position of International Admissions Coordinator in the Center for International Education.
Before working for Truman, Brittney taught English in South Korea for two years. She has a love of international travel and new experiences which she pursued in her undergraduate program at the University of Memphis, in Tennessee through study abroad in both the UK and Japan.  Brittany earned both a Bachelor of Arts in Linguistics and a Master of Arts in Linguistics from the University of Memphis.
Brittney's role as Admission Coordinator will involve various aspects of international recruitment, including some international travel, while also overseeing admissions and enrollment efforts and carrying out some duties in student support.
Brittney is passionate about helping international students become accustomed to their new environment, especially since she was once in their position. Her message to international students is to put themselves out there by joining student's organizations to meet American students and other international students.  Please feel free to contact her atbrobinson@truman.edu.
Welcome to the CIS team, Brittney!
Did you like this article? Get the Truman State University's International blog updates by subscribing to our email. Have questions? Feel free to send us an email at intladmit@truman.edu. We're always excited to talk to new students and counselors!
---
---
---