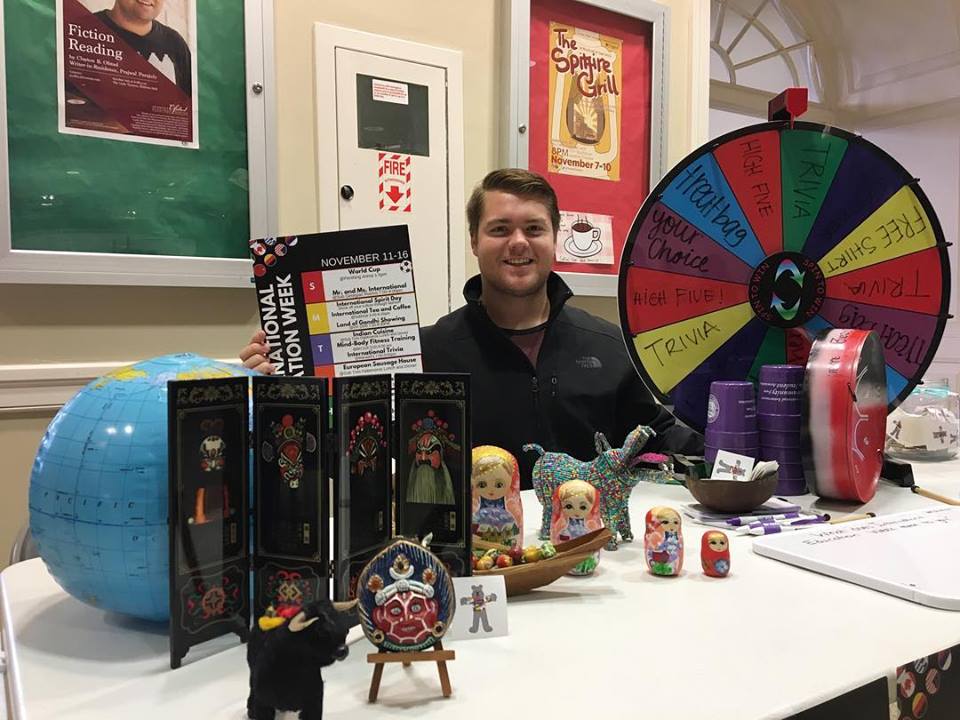 ---
The Center for International Students hosted International Education Week (IEW) on Truman's campus November 11th-15th. Throughout International Education Week, students on Truman's campus celebrated education and diversity in a beautiful display of culture and community. This week was full of action with tons of events put together by the Center for International Students and various cultural clubs.
World Cup and Mr. & Mrs. International
Starting on November 11th, IEW was kicked off with the World Cup, which involved a soccer competition where each team fought for the winning title and of course bragging rights. Later in the evening Mr. and Ms. International took place, hosted by International Club. This event showcased some of the amazing countries and cultures shared by Truman students. The pageant participants captivated their audience with an array of talents ranging from stand up comedy acts to singing performances.
International Spirit Day and International Tea & Coffee
On November 12th, International Spirit Day, International Tea and Coffee, and "The Land of Gandhi" showing in Violette Hall made for a busy Monday! International Spirit Day encouraged participants to showcase culture in their fashion. The campus was gleaming with cultural pride and some beautiful pieces of clothing. International Tea & Coffee gave students and faculty a taste of traditional drinks from other countries. This event served as a welcome and warm distraction from a very cold day. "The Land of Gandhi" showing that evening provided a very human experience to the immigration of highly skilled workers in America.
Mind-Body Fitness Training and International Trivia
On Tuesday, November 13th the IEW festivities continued with Mind-Body Fitness Training and International Trivia.  Mind-Body Fitness Training gave everyone the opportunity to learn more about health beyond the physical gains in a gym. The day ended with International Trivia at local favorite restaurant, Maxwell's. Attendees were challenged with cool tidbits and facts that allowed everyone to look outside of their own culture into the great expanse of the world.
Dance Explosion
November 14th erupted with excitement as the much anticipated Dance Explosion event took place. Dance Explosion lit up the night with a showcase of dances from other cultures. The cultural dances represented Latin America, West Africa, Nepal, along with some featured American flavor. Students came out to the Kirk Gym on Truman's campus to learn a few moves and have an unforgettable time.
Stories under the Stars
International Education Week concluded on Thursday November 15th with Stories Under The Stars at the Del & Norma Robison Planetarium and Multimedia Theater at Truman State. People gathered in the planetarium to look at stars in a unique environment and share cultural folktales and stories. Those in attendance were able to learn more about places where the night sky may look different and where constellations are called by other names.
Sodexo Around the Globe
In addition to all the amazing events throughout the week, Tres Habeneros in the Student Union Building hosted special dishes from different cultures beginning on Tuesday and lasting until Thursday. All students at Truman got to experience a taste of international foods throughout the week. Tuesday's featured cuisine was Indian food, Wednesday held the European Sausage Haus, and Thursday presented the popular Greek Mediterranean Cuisine.
The CIS would like to thank everyone who participated in the events and made IEW 2018 a success! Check out this video for a deeper look into this year's events.
We are already excited for next year! See you in 2019!
---
---
---