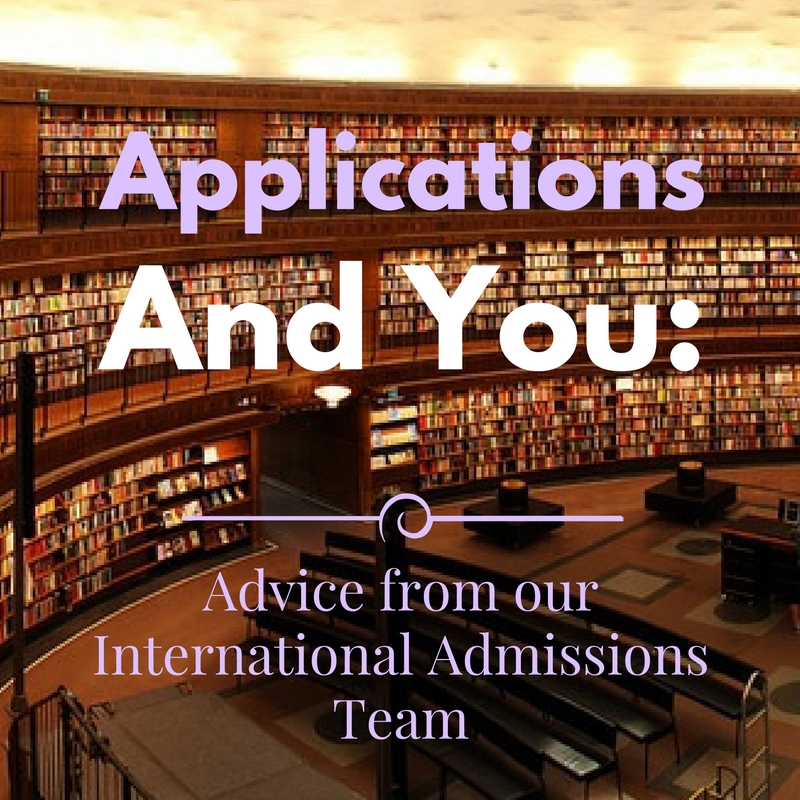 ---
Hi! My name is Claire Miller, and I am a senior student who works on the Admissions Team at Truman State University! This is my third year on the team, so I have put together a lot of application files.  I have seen a lot of different application materials in that time, and would like to share my thoughts on the application process with you.
Students submit many different things in addition to the required admission documents, thinking that more information will improve their chances of admission.  We appreciate the opportunity to learn more about each applicant.  However, videos of you skateboarding or pictures of you with American celebrities are not all that helpful.  They rock, don't get me wrong, but they won't improve your chances of admission!
What, you ask, will help?  Good question!  I have put together a short list of things I think all students should incorporate into their applications when applying to Truman.
The essay!

   Your essay is absolutely critical to your application.  It gives the Admission Committee an idea of who you are and where your academic interests lie.  In America, both

independence

and

original thought

are highly valued

, so we expect an essay written entirely by YOU, with all original wording, and if the words of someone else are used, we expect you to have used the proper citations attributing their work to them.  Plagiarism, or using other people's writings as your own, is grounds for immediate denial to the University.  

We always check each essay for plagiarism

, so don't waste your time by copying some poorly-written essay about global warming into a word document and slapping your name on the bottom of the page.  Make your essay new, fresh, original and exciting, moving, or humorous.  We have fun reading the essays and want you to enjoy writing yours!
Extra-curricular Involvement!

 We in International Admissions want to know who you are and if you will enjoy making Truman your second home.  Extra-curricular activities are not mandatory for admission, but they are encouraged so include evidence of your extra-curricular involvement in your application file.   Any activities in which you participated including clubs, organizations, volunteer work, or something else, we want to see it all! If you won the geography prize in your first year of high school, we want to know that you can point out more countries on a globe than anyone else, so send us the certificate!  Giving us this information shows us you are a proactive human being who plans on making a difference in the world, and that's what we like to see in Truman students.
Recommendations!

 

For graduate degree applicants, recommendations are mandatory.  They are not required for undergraduate applicants, but you can send them if you feel they add another dimension to your application.  Although we love to hear you brag about yourself, we also love to hear other people brag about you.   If you have a teacher or employer with whom you have strongly connected, and they are willing to tell us how they know you and how they feel about you, ask them to write a letter on your behalf!
Truman State University values every student admitted to the University.  We are all part of one big family, and we want everyone to feel included.  We want all students applying to know that they are valued not only for their GPA and test scores but also for who they are and what they bring to the school in terms of personality, interests, and skills.  We know that you are trying to make a monumental decision to study abroad at our "Hidden Gem" in the Midwest, and we want you to feel confident and proud of your decision.  We look forward to receiving your emails and reading about your unique lives.  Show us the person you really are through your application, rather than the person you think we should want.  Don't pretend to be someone you are not in the application process hoping you will end up admitted here. Be yourself and let your unique characteristics and talent shine.  We want to know you as people, and we want you to know that we too are simply people (and mostly students).  We are the ones responding to your questions and your worried emails about deadlines, and we are trying to make the process easier on you.  We look forward to being your peers, your mentors, and your friends.  We always look forward to hearing from you.
Links:
Truman as a "Hidden Gem" University
Did you like this article? Get the Truman State University's International blog updates by subscribing to our email. Have questions? Feel free to send us an email at intladmit@truman.edu. We're always excited to talk to new students and counselors!
---
---
---