---
When I was asked to write this article about how international students have influenced my time at Truman, I initially thought it would be easy. However, international students have had such a large impact on my life that I found it difficult to find the words to express exactly how I feel. I am convinced that the written word cannot truly capture the value of my experiences. Nevertheless, this is me trying to put my thoughts and feelings on paper.
Friendship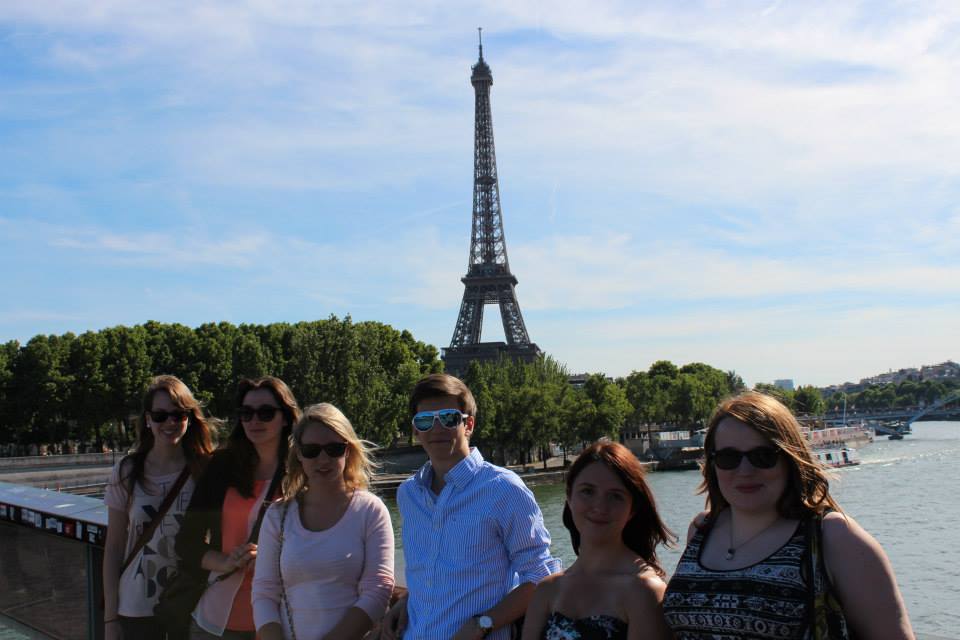 The first thing the international community brought me was close friendships. I began working for the International Student Affairs Office (ISAO) during my second year at Truman.  In my first few days as a student employee, I met many people, some of whom became members of my group of closest friends. The eight of us in my friend group represented five countries: Ghana, France, China, Sri Lanka, and the United States. We were inseparable that first year. We would eat together, do homework together, hang out together, and cook together. Our conversations were the epitome of cultural exchange. We talked about everything: religion, family, schooling, boys, girls, and most importantly, food! We were always comparing the ways things work in different countries. Through these conversations, I started to realize how much the rest of the world differed from the suburban town where I grew up.
At one point, I brought the whole group home to meet my family. Seven additional people in my house made it feel cramped, but it also made it a lot of fun! Plus, it gave my international friends the opportunity to see how a typical American family acts, and it gave my family a chance to meet some amazing people! Over time, our little group drifted apart, with some returning home and others expanding their network through classes and work. However, we still keep in touch, and I know we always will!
Apart from these friends in particular, I've made so many more! I meet new people every semester from all over the world, and make amazing new friends each time! They're people that even though we may be halfway around the world from each other in the future, we'll always keep in touch, and I'll always be happy to see them.
Cultural Exchange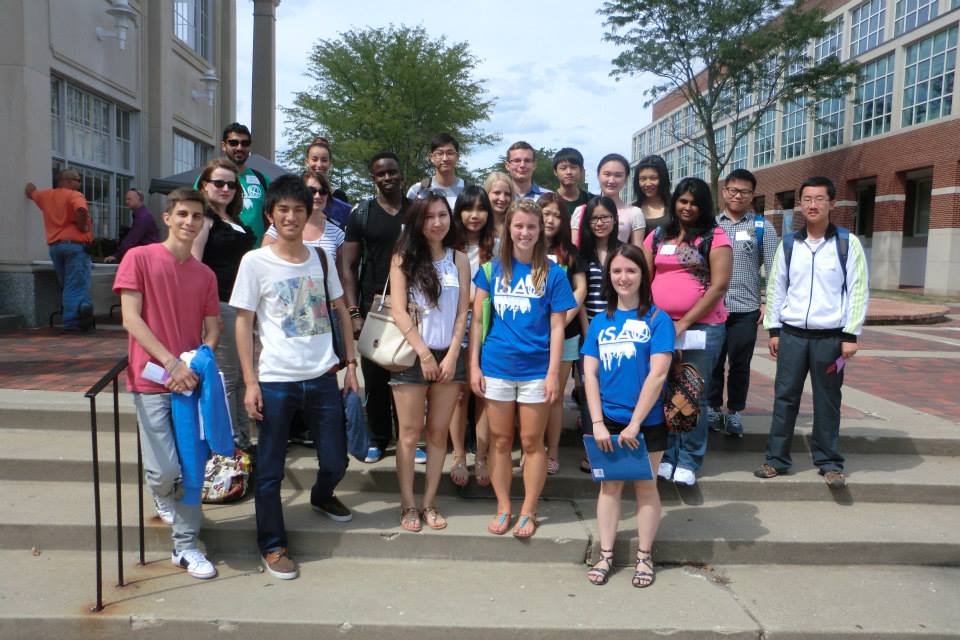 I learned a lot about different cultures, and how they compared to American culture. One of my Jamaican friends, Nasharee, said that festivals in the United States paled in comparison to those in her home country. However, she also said that what the United States lacked in extravagance, we made up for by the closeness of community. I spoke with my friends Vanessa, Malene, and Estelle, who are German, Dutch, and French, respectively, about American mannerisms and culture and how some things just don't make sense to them. Overall, it seems like students enjoy experiencing the richness of American culture. Hoping for others to have similar cultural exchanges, I've often been the bridge between American and international students by introducing my American friends to international friends so that we could all hang out together.
Recently, I had the opportunity to travel around the world to meet those same friends in their home countries.  In Sri Lanka, we traveled around the country, and I enjoyed many eye-opening experiences, such as going on a safari and getting the chance to feed a baby elephant. One day while driving through the mountains around Nuwara Eliya we stopped to have a traditional lunch right next to a waterfall and it was amazing. In France, my friends shared the beauty of their country with me.  We not only spent a few days wandering through Paris, but they took me through the countryside of Bretagne, showing me beaches, shops, and bakeries in small towns I had never even heard of.
In total, the trip was a refreshing reversal of roles; I was no longer the expert, but instead, the learner.  My friends witnessed me struggling with the same cultural obstacles they had experienced. They had many good laughs at me as I stumbled through ordering food and finding the right money to pay my bill. I was welcomed into their family homes, just as my family had welcomed them, and their families treated me as one of their own, even if we couldn't communicate well! I will be forever grateful for their hospitality!
I know that my international travels will not end with this trip. I have received offers from friends all over the world, and I am excited for the international adventures in my future!
Personal Growth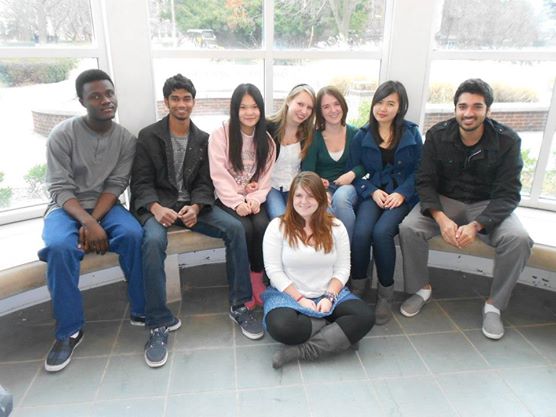 The international community at Truman not only expanded my worldly knowledge and my social circle, but was also a major contributor to my personal growth. A Nepali couple I befriended during my second semester working with international students, Nisha and Reejan, demonstrated what true friendship looks like. We cooked together, played games, and talked without judgment. They taught me a lot about their country and culture, and we discussed how Americans and internationals should get more involved, since we aren't actually that different. They eventually became like the older brother and sister I never had. I discovered a new ability to connect with people, and I was dramatically more comfortable talking to strangers, an experience from which my previous self would have avoided!
Through my experiences with international students, I have been given the opportunity to learn several different languages. My friends have attempted to teach me words in their language, trying hard to not laugh as I struggled through the pronunciation. Ai, a friend from Vietnam, sat with me for a good hour once, as I stumbled through various attempts at his language.  Each time, he would laugh and tell me it wasn't quite right, but to keep trying. I admired his dedication, and this experience gave me a new appreciation for the patience and perseverance it takes to be an international student studying in a second language.
I have had long conversations with Chinese and Japanese friends in which we tried to figure out why we do the things we do.  For instance, my Chinese friend would never ask questions in class. Americans speak up and ask questions in class all the time, but to my friend speaking out in class was an unheard of concept.  In her culture, asking questions of the professor during class or offering your opinion in class is seen as rude and disrespectful. When I considered her position in coming to study in a foreign country and an entirely different educational system and different educational values, I understood why she was not comfortable speaking in class.  It is often difficult to challenge social norms, and only after much discussion did my friend go to talk to the professor. Finding friends to help you in class is a great way for international students not only learn about the class, but American culture as well.
Conclusion
Before I started working with international students, I thought that I knew a lot about the world, but I have since learned otherwise. Even after sharing all of these stories, I don't believe I have shown you the immensity of what I have learned. The international students I have met at Truman have truly changed my life. Through these people I have met, the discussions we have had, and the experiences we have shared, my whole personality has changed, I think, for the better. I've changed my major; I've changed my goals, and I've changed my outlook on life! You don't get the kinds of opportunities I've had very often; you have to seek them out.  So, put yourself out there, and don't be afraid to ask the silly questions. Sometimes, they provide the most interesting answers.
Did you like this article? Get the Truman State University's International blog updates by subscribing to our email. Have questions? Feel free to send us an email at intladmit@truman.edu. We're always excited to talk to new students and counselors!
---
---