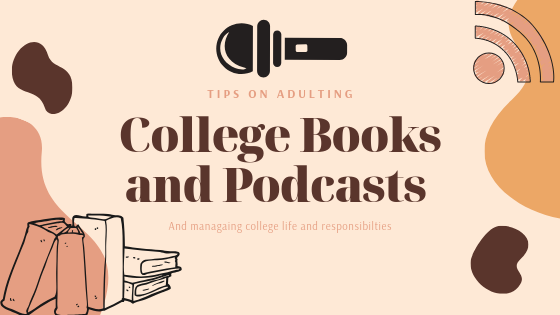 ---
At some point, every college student has looked up or asked about navigating this new chapter of their lives. Well search no more, because here are a list of useful podcasts and books to help do just that.
       BOOKS
How To Win At College- By: Cal Newport: This book has seventy-five simple rules that will help set a strategized game plan for tackling college, without all the unhealthy workaholic methods. These strategizes are tried and tested by other students just like ourselves. Cal Newport works at Georgetown University as an associate professor,  has a blog called Study Hacks, and the author of five other self-help books.
How to Become a Straight-A Student, By Cal Newport: This one of those five other self-improvement books. Which is precisely about what the title is about. This book will show you the way to achieving better grades is not studying harder but rather studying smarter.
Deep Work, By Cal Newport: Make this one of those four other books now. This book will help readers conquer distractions and be able to increase the amount of time they will be able to get "Deep Work" or a significant amount of work done through building solid focus. This concept was also an episode on Hidden Brain with Newport on as a guest to talk about.


PODCASTS

Hidden Brain- NPR- Shankar Vedantam: This podcast has the target of unraveling "the unconscious patterns that drive human behavior, shape our choices, and direct our relationships". Through science and storytelling, this podcast will give the listener a sense of reflection that will help them understand themselves a bit better and hopefully engage in better actions. The average college student would enjoy this podcast as it broadens one perspective and gives practical advice.
College Geek Info: This source has all things college-related. It is both a website, youtube channel and a podcast that will help with a lot of questions about college/adult life in general and some great applicable advice on being a better student. This source has a lot of information and can really answer some
Ted Radio Hour: Most people have heard of Ted Talks, which shares many talks from the world best thinkers and doers. Ted Radio Hour shares the talks in themed episodes and expands on them. Hosted by Guy Raz, this platform will give college students something they can learn from and maybe even apply to their lives if not just something interesting to listen to.
These resources can help organize your college experience and give some insight into college.
---
---