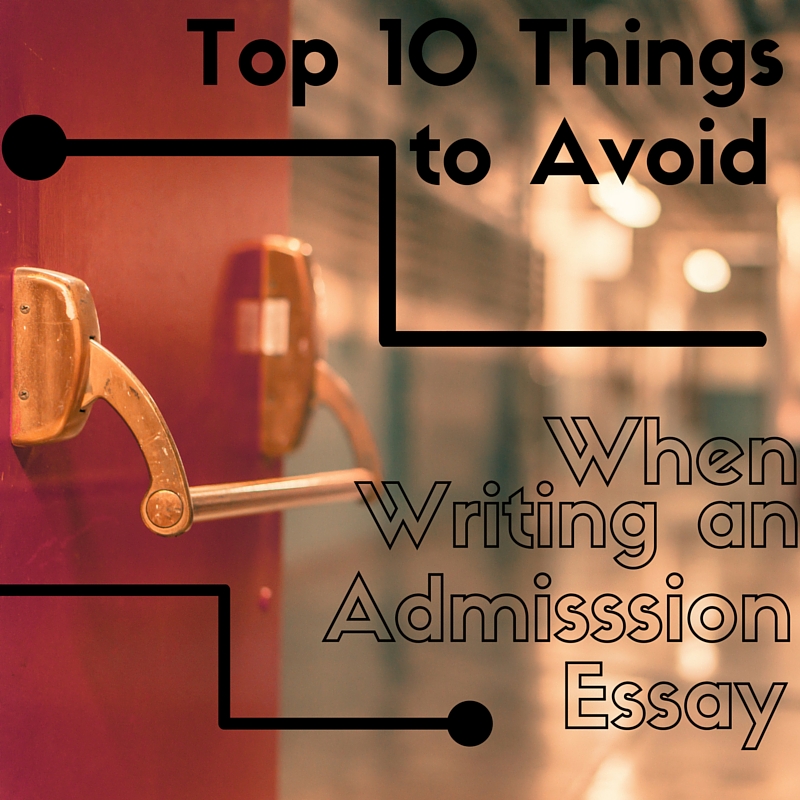 ---
When applying to American universities, it is important to understand that the admission essay is a MAJOR part of the application and can strongly influence the admission decision.  Most universities will offer several prompts from which prospective students can choose an essay topic, but many also offer an option to write an admission essay on the topic of the student's choice.  Choose wisely!
The purpose of the admission essay is to highlight or reveal an aspect of a student's abilities that is not made apparent by their grades.  For instance, the essay is a great way to show your creative side and offers a chance to showcase your ability to think outside the box. The admission essay is a way to make your application stand out from the hundreds or thousands of applications a university receives.  Done correctly, the admission essay is a valuable asset for college students hoping to study outside of their home country. It is just as important to avoid certain things in an admission essay as it is to include certain things.  Here are the Truman Times Blog's "Top 10 Things to Avoid When Writing an Admission Essay."
Top 10 Things to Avoid When Writing an Admission Essay
Underestimating the importance of the admission essay

– While the prompts offered may not always be what you would choose to write about, admissions essays are critical to the admissions process so you must use your very best writing skills. Your essay may be read by several admission staff members within the university to which you applied. Admission to a university, along with scholarship eligibility, may be influenced by what you write in your essay. Aim for your best work!

PLAGIARISM

– Plagiarism is perhaps the most important thing to avoid when writing your admission essay. The submission of original work and ALWAYS attributing the work of others through the use of citations is one of the most important educational values in the U.S.  Using the words or ideas of others as your own is considered a major form of cheating and universities have the power to find out if any part of the essay is not your own.  Those who have plagiarized any, or all of the admission essay, will be strongly penalized in the admission decision.  

Whether you have had a friend write your admissions essay for you or using a single line out of an online admissions essay, there are ways for admissions committees to determine dishonest applications. The consequences of submitting work that is not your own are extensive. When they detect plagiarized work, many universities will deny your application immediately on the grounds of academic dishonesty. Others may require you to submit a new admissions essay, along with requirements to write a paper or undergo counseling regarding academic dishonesty.  The risk involved with plagiarizing even a single sentence from another's work is too great to make taking shortcuts a viable option for these essays.

Changing a university's prompts to fit a previously written essay

– As a student applying to many universities, it may be tempting to send a single admissions essay to several of them. However, each university can offer different prompts for admissions essays. Different prompts are offered to encourage unique, original work from prospective students. Reusing essays from previous admission requests will result in work that feels unnatural, and that does not relate to the topic assigned. Focus your efforts on writing an original paper that directly reflects the prompt and answers all questions posed.

Choosing the easiest prompt

– American universities will often receive hundreds of essays from applicants every semester. Admissions staff will end up reading dozens of essays with similar themes. Use this trend to your advantage! By choosing a more difficult prompt, your essay will stand out better in the minds of admissions workers, and make you seem like a more unique and desirable applicant.

Overextending your English skills

– For some applicants, it may be tempting to try and appear "smarter" by using longer, more complicated words in their essays. This strategy is risky for students with a weaker command of the English language, as it can lead to mistranslations and misunderstandings of your essay. It is best to stick to the level of English with which you are the most comfortable to best express yourself.

Over-personalization

– Including aspects of yourself and your history is incredibly important when writing admissions essays. Essays allow you to express yourself in ways not possible through other admissions forms. It is important, however, to remain focused on the prompts offered to you. Incorporate aspects of yourself, your goals, and personality into your writing, but don't let excessive stories of your personal history distract from the prompt at hand. Admissions workers are looking to learn more about you as an individual, but they are also looking for someone who shows they can follow instructions without major distraction!

Sending in a first draft

– No matter how proud you are of a paper you've written, it is rare that a first attempt is perfect. Everyone makes mistakes, whether they are grammatical, stylistic, or content-related. Undertaking several rounds of revision of your essay can help you avoid these harmful mistakes, and generate a better piece of writing.

Editing alone

– Having a friend or family member read over your essay is an important strategy. Objective readers can point out areas where your writing lacks detail, needs correction, or lacks voice. If you are worried about your use of English in your essay, have a native speaker read your paper! Their advice will strengthen your writing while ensuring the voice remains your own.

Lying about yourself

– Falsifying your identity and experiences to impress college admission workers is another risky move. Admissions workers can often tell when students are lying about their personal history, values, or experiences. Avoid writing as the person you think admission officers want you to be. Be yourself, and let your best qualities shine through your writing. Sincerity will go a long way towards conveying the best of yourself to the university of your choice.

Procrastinating

– Putting off writing admission essays to the last minute is a bad strategy.  Remember that admission essays have deadlines and get an early start.  Give yourself time to let the ideas flow freely, and allow for multiple drafts of your essay.  Rushed essays will have lower quality content, and will be less understandable to your audience.  Taking the time and effort to create sincere, original and high-quality content may seem stressful, but the rewards exceed the effort.  
Did you like this article? Get the Truman State University's International blog updates by subscribing to our email. Have questions? Feel free to send us an email at intladmit@truman.edu. We're always excited to talk to new students and counselors!
---
---
---