---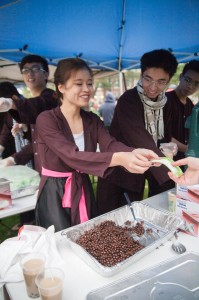 On October 12th, the Vietnamese Students Association (VSA), at Truman State University, brought to campus its largest outdoor cultural event, Across Vietnam: Vietnam 101. This is the second time the VSA has held such an event to introduce the Vietnamese culture to Truman's students and faculty. The audience was entertained with a traditional Vietnamese dance to open the event and welcome the guests. During the event, participants had a chance to taste ten delicious dishes prepared by Vietnamese students, including some well-known dishes such as Pho, Spring Roll, and Banh Mi (Vietnamese sandwich). In addition to food and performances, there were many different activities and games throughout the event. Calligraphy was one of the featured activities. Students translated participants' names into Vietnamese using traditional calligraphy methods.
Across Vietnam attracted more than 300 people, and the feedback was overwhelmingly positive. One Truman student shared his thoughts about the event this year, "I was totally impressed with Across Vietnam! I would recommend it to everyone. I hope you have it next year."
International Student Advising Intern Rachel McNeill had this to say, "Across Vietnam gives Truman students and faculty a chance to experience authentic Vietnamese culture without travelling to Vietnam. I hope that it encourages American students to reach out culturally and travel abroad. The Vietnamese Students Association always does a great job with their events, and I hope they will bring the event back next year."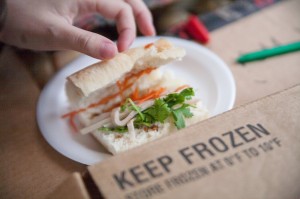 Seventy-three students from Vietnam are currently enrolled at Truman State University, located in the Northeast Missouri town of Kirksville. U.S News and World Report 2015 ranks Truman as the #1 University in the Midwest.
Did you like this article? Get the Truman State University's International blog updates by subscribing to our email. Have questions? Feel free to send us an email at intladmit@truman.edu. We're always excited to talk to new students and counselors!
---
---