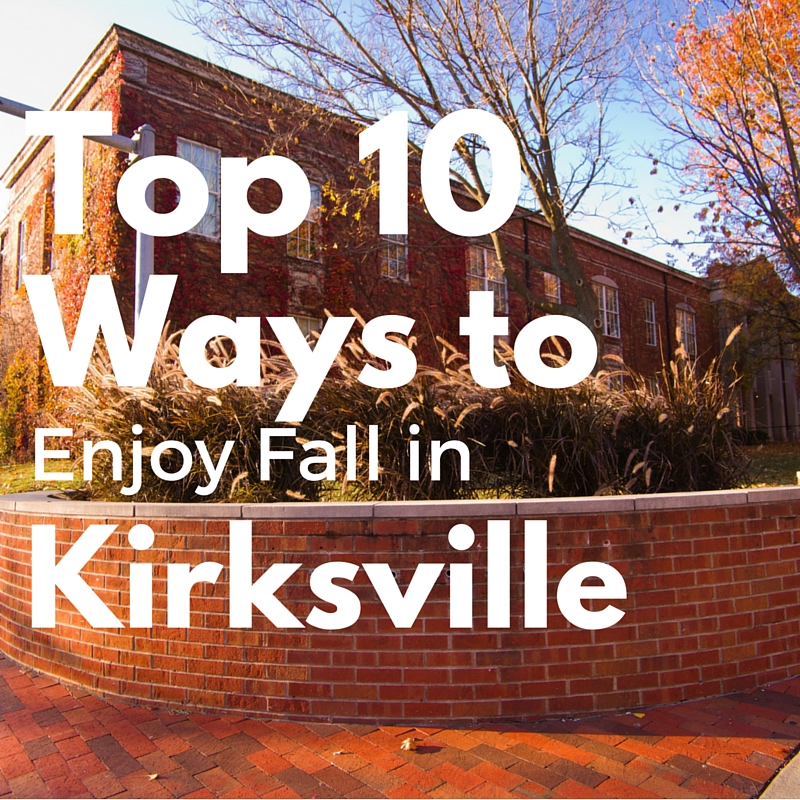 ---
  The United States, like many large countries, has a variety of cultural differences based on region. While the people of the U.S. share many values, activities, and pastimes, there are always new experiences to be found through travel. The Midwestern region of the U.S. is home to its own unique culture and activities. Kirksville, the small city in the State of Missouri where Truman State University is located, is home to many of its own traditions and activities. If you're looking for new ways to experience American Midwestern culture during the fall, look no further than this great little town.
   Carving pumpkins
Around this time of the year, you will see lots of pumpkins for sale.  Why not pick one up and  carve your own Jack-O-Lantern!  It's a way to spend time with friends and embrace your creative side.  There are lots of different patterns and designs available for carving a Jack-O-Lantern.  You can also save your pumpkin seeds and bake them for a delicious treat!
Fun Fact: Pumpkin carving is not a uniquely American activity. In fact, civilizations around the world have been carving gourds for lamps for hundreds of years!
Corn maze 
   Corn mazes originated right here in the Midwest!  The Jackson County Connection Home (http://www.jacksoncc.info/) is an outdoor agricultural entertainment center providing family fun and group activities during the fall months.  Corn Mazes are giant puzzles created when farmers cut wide paths through fields of tall corn.  The shapes of the many corn mazes in the Midwest are different and often depend on the interests and talent of the farmer.  Whether they are pictures, patterns or messages, the more paths, the more challenging the maze becomes.  There can be many loops and dead ends to help you get lost and have to start again.  In a corn maze, getting lost is fun, especially with your friends.  Going to a corn maze with your friends is a great Midwestern way of getting into the fall spirit!
Train bridge
Heading out to train bridge is one of the best ways to enjoy the fall sunset.  Gather up some friends and head down the back roads to take part in this old Kirksville pastime. Students love to stand on the bridge as trains pass under it, chugging along at speeds of up to 70 miles per hour beneath your feet.  Enjoy the clear fall skies for stargazing and cool weather with your friends.
Fall beverages
   Nothing warms you better on a cool fall day than a nice cup of hot apple cider or hot chocolate. There are lots of fall-themed drinks to try while you are here in Kirksville.  Head downtown to the Farmers Market to sample some good things to drink, or visit one of the coffee shops on the Kirksville Square or the Truman campus. There are lots of recipes online if you want to make the drinks yourself.  Some fall favorites include hot apple cider, hot chocolate, pumpkin spiced lattes, and eggnog.
 Fun Fact: Apple cider is the official beverage of the American state of New Hampshire.

Warm home-cooked meals
   If your hot chocolate has made you hungry for a snack, fall is a great time to warm up inside and cook some great homemade meals. Gather all of your friends for a potluck dinner or cooking party and try your hand at making some delicious traditional Midwestern fall foods like apple cobbler, pumpkin pie, or butter squash soup! The Kirksville community offers a wide variety of ingredients to use, from the locally-grown fruits and vegetables of the Farmer's Market to the wide selection of products available at the nearby retail stores.
Enjoy the changing leaves
   Fall is one of the most beautiful times of the year in parts of the U.S., including the Midwest!  As the days grow shorter with less sunshine, the many hardwood trees prepare for winter.  They shut down their food-making process, and the leaves begin to change from green to gold, orange, and red.  Bundle up and take a walk around Truman's beautiful campus and enjoy the sight of the changing leaves.  If you have any extra time, go jumping in piles of leaves – it's a blast!
American football games and tailgates
Fall is football season in the U.S.  Not soccer, which the rest of the world calls football, but rather American football that may look somewhat like rugby to the inexperienced observer.  The Truman Bulldog Football Team has home games on campus at Stokes Stadium.  It is always a good time to come out and cheer on the Bulldogs to victory with your friends, even if you don't understand the rules.  Before the games, there is usually a Tailgate, a pregame party where friends and family come together to hang out, barbecue, and rally school spirit. The Truman Cheerleaders often come out and put on a performance before everyone heads to the grandstand to watch the game. At halftime of the game, the Truman Marching Band, will perform.  Win or lose, football games are always a fun time to show some Purple Pride!
Cuddle up with a good movie
   If a long day of fall activities has tired you out, there is nothing better than cuddling up with a warm blanket and a good movie, either alone or with friends.  There are lots of
great American movies that take place in the fall, like Good Will Hunting, Autumn in New York, and When Harry Met Sally.
Volunteering
   Fall is a great time to volunteer around Kirksville.  One of the fall-favorite places to help out around Kirksville is the Animal Shelter.  Come out and play with some cute puppies and kittens!  Get into the fall spirit by joining the Big Event, where hundreds of Truman students sign up to help out their Kirksville neighbors with tasks like raking leaves or painting.  Other places to volunteer around Kirksville include the Kirksville Manor, the YMCA, and Hope's Kitchen!
   Take a drive out the Thousand Hills State Park!  Take a hike and enjoy the crisp autumn air, the changing leaves and great times with your friends. Thousand Hills State Park is beautiful this time of the year!  Come out and take a look for yourself and enjoy the beautiful nature and fall foliage.
What are your favorite ways to spend the fall season? Share your thoughts by commenting below!
Did you like this article? Get the Truman State University's International blog updates by subscribing to our email. Have questions? Feel free to send us an email at intladmit@truman.edu. We're always excited to talk to new students and counselors!
---
---
---