Class trip to Truman Home
April 15, 2014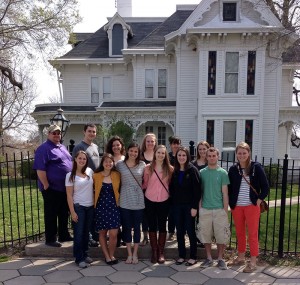 On April 12, 1945, Harry S. Truman became president of the United States following the death of his predecessor, Franklin Roosevelt.  On the 69th anniversary of that event, the weekend of April 12, 2014, students from Truman State University toured sites related to Truman in the greater Kansas City area.
The students were members of a class taught by Jeff Gall entitled "The Life and Times of Harry Truman."  As they neared the end of the semester, what they had learned in class became more tangible as they visited the following sites in Independence, Grandview, and Kansas City: the Truman boyhood home, the Truman courtroom in the Jackson County Courthouse, the Truman Farm, "Boss" Tom Pendergast's office, and the Victorian home where Harry and Bess lived their adult lives.
They also spent an afternoon at the Harry S. Truman Presidential Library and Museum.  There, before touring the museum, they took part in a historical simulation at the "White House Decision Center" in which they recreated Truman's decision to enter the Korean Conflict.  Finally, they toured the National World War I Museum at the Liberty Memorial, followed by a great meal at Kansas City's landmark eatery, Arthur Bryant's Barbeque.
The students would like to thank Dean Elizabeth Clark of the School of Social and Cultural Studies for financial support that helped make the trip possible.