Truman Alumna Shares her Truman Experience in HES
September 27, 2017
"After I graduated in 2006, I accepted a job offer at the University of Wisconsin Carbone Cancer Center in Madison.  In 2011, I opted to go back to school part-time while working at the Cancer Center and received a Teaching English as a Foreign Language certificate.  In 2012 I moved to Gwangju, South Korea, where I taught conversational English to elementary, middle, and high school students.  After my return to the US,  I opted to return to graduate school and in May of 2017, I graduated with my Doctorate of Physical Therapy from Des Moines University.  I am currently employed in an outpatient clinic which specializes in one-on-one manual therapy.
At Truman I learned to communicate more effectively.  I have found that writing and presenting yourself well can open many doors, allowing you to convey important information in resumes and cover letters, scholarship applications, and interviews. In addition, I met wonderful faculty at Truman and in HES specifically who offered advice, encouragement, and a listening ear when I needed it, even 10 years later!  I am forever thankful for the caliber of faculty and fellow students I met at Truman.
My education at Truman was really broad; I took Italian classes and studied abroad in Ro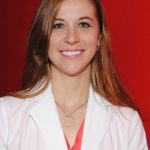 me.  I completed research with HES faculty.  I combined intense science courses with classes in religion, English, linguistics, and music.
For the lucky individuals who know exactly what they want to do with their lives – that is wonderful.   However, for the rest of us, be calm in the knowledge that it's totally okay. Really.  I can look back on the years since I left Truman and see how the path that lead me to today – while certainly not linear – made me more determined to pursue my DPT and has given me life experience that makes it easier to connect with my patients."
—Mary Beth Wims ('06), Health Science; Minors in Biology, Psychology, and Italian Studies