A Reading from Utopian Fairytales by Ofstad Writer-in-Residence David Chan
April 11, 2014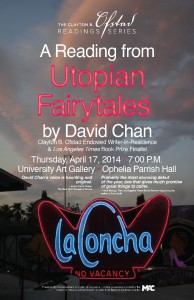 Ofstad Writer-in-Residence David Chan will read from Utopian Fairytales (prose) on Thursday, April 17, at 7:00 PM, in the final event of the semester in the Clayton B. Ofstad Readings Series.  The reading will take place at the University Art Gallery, Ophelia Parrish Hall.
Professor Chan is currently the inaugural Clayton B. Ofstad Endowed Writer-in-Residence/Visiting Assistant Professor of Creative Writing in the Department of English & Linguistics.  He is the author of Goblin Fruit: Stories, which was a finalist for the Los Angeles Times Book Prize Art Seidenbaum Award for First Fiction.  Writing in the Los Angeles Times Book Review, Rick Moody called Goblin Fruit: Stories "probably the most stunning debut of the year, one that gives much promise of great things to come," and in the New York Review of Books, Joyce Carol Oates wrote: "David Chan's voice is haunting and original.  Goblin Fruit is a fascinating cri de couer by a young writer of promise and substance."
Professor Chan will be reading from his new book-in-progress, Utopian Fairytales, a work of narrative nonfiction examining unusual, innovative, and distinctly-American locations and the stories behind their imagination, construction, and existence.  Funding for this event is generously provided by The Clayton B. Ofstad Endowed Chair in English, the first-ever endowed faculty chair at Truman State University.  Additional funding for this event is provided by Truman's Multicultural Affairs Center as part of Asian American Heritage Month.