Truman Alum Releases New Children's Book About an Artistic, Mischievous, French Cat
November 20, 2013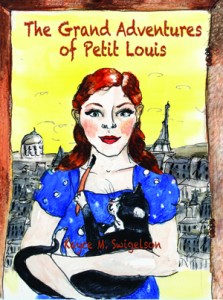 Kayce Swigleson (2007)'s The Grand Adventures of Petit Louis, a children's book about a vain little black and white cat who travels the streets of Paris searching for the perfect birthday gift for his owner, was published by Monograph this spring.
Kayce wrote the book as a project as a project in Dr. Donna Rhinesmith's Literature for Children class. At Truman she majored in French with minors in English and French Translation, and studied abroad in Angiers, France during her junior year.
She currently lives in St. Louis and teaches French and art at Priory School, an exclusive, private boys school in St. Louis.