Truman Forensics: top 3 debate school in the nation
April 25, 2019
By Truman Forensics Students and Staff
Truman State University's Forensic Union (speech and debate team) has once again proven to be one of the top debate schools in the United States. At the National Forensic Association's (NFA) Championship Tournament, this year hosted by the Santa Ana, CA school district, the Truman Forensic Union placed 3rd in the nation in Lincoln-Douglas debate. 12 students traveled to the competition where Truman State University was among 90+ schools competing in both speech and debate activities.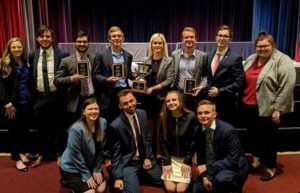 (Top Row: Macy Cecil, Michael Garrett, Peyton Gilbert, Johnathan Christy, Cami Smith, Tyler Behymer, Jackson Elder, Alexis Cook)
(Bottom Row: Rebecca Walker, Austin Sopko, Audrey Baker, Will Henrickson)
Three of Truman's debaters earned spots among the top 16 debaters in the nation as well. Senior Tyler Behymer, senior Johnathan Christy, and sophomore Peyton Gilbert each advanced to elimination rounds before finishing as national octafinalists.
Truman Forensics is also continuing to engage in service and leadership at the national level. Sophomore Cami Smith was elected as the national LD student representative and will serve on the NFA LD Committee in the coming year. Additionally, after serving  a two year term from 2017-2019, director of forensics Chris Outzen was re-elected to another term as an at-large representative on the NFA national council.
With a stellar showing at nationals, Truman Forensics can now close the 2018-2019 chapter of its history. It has been a fantastic year for us and we thank you all for your support over this past year.
Participation in the forensics program is open to any Truman student in good standing, regardless of prior speech and debate experience.  For more information on how to get involved, visit forensics.truman.edu or contact Director of Forensics, Christopher Outzen at coutzen@truman.edu, or Craig Hennigan, Assistant Director of Forensics at chennigan@truman.edu.