Truman students participate in speech and theatre convention
September 28, 2010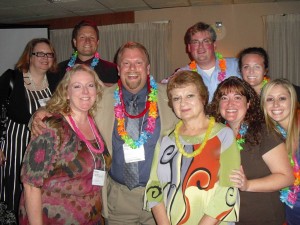 Front Row (left to right) Sharon Roettger Duggan-Jinga (1990, Fort Zumwalt West, O'Fallon), Doug Erwin (1992, McCluer, Florissant), Carol Grindle Swinderman MacArthur (1992, Nevada R-5), Katie Rucinski (2000, Blue Springs South), Abigayle Richardson (current Truman student)
Back Row (left to right) Jennifer Forrest-James (1993, Parkway South, St. Louis), Michael Hachmeister (1992, Parkway South, St. Louis), Justin Seiwell (2008, Ladue, St. Louis), Cara Hurst (2007, Parkway West, St. Louis)
Dr. Barry Poyner and Abigayle Richardson presented a research paper in September at the Speech and Theatre Association of Missouri Convention at the Lake of the Ozarks.
-The title of the paper was "Preparing Students for Academic Audiences."  Abigayle was also awarded a scholarship from the association for her desire to teach Communication on the secondary level.
-Several former students took active roles at the convention.  Making presentations at the awards banquet were Doug Erwin, Jennifer Forest, and Michael Hachmeister.  Michael also serves on the Board of Governors.
-Jennifer and Michael presented an award to their administrators (Parkway South in St. Louis) who have been so supportive of the arts.  Another Truman graduate, Gavin Brady, teaches Journalism there.  Dr. Poyner supervised Gavin's student teaching.
-Katie Rucinski helped lead a session "Fuel Up for Fall—Speech/Debate." Doug Erwin led a session, "Culturally Responsive Teaching in the Speech and Theatre Classroom."