Allie Toepfer
May 15, 2018
Allie lives in St. Louis, MO, where she works as an account supervisor for FleishmanHillard, focusing on executive thought leadership, corporate communications, and reputation management. She's on the Board of Directors for Home Sweet Home, St. Louis' first and only furniture bank, and has volunteered for Celebrate Style for Siteman Cancer Center for the past two years. She enjoys reading, baking, and exploring St. Louis.
What year did you graduate and what was your concentration?
I graduated in 2011, with a concentration in Communication Studies.
What extra-/co-curricular activities did you do?
I was an anchor and did public relations for News 36 (now TMN-TV). I also was a member of Delta Zeta sorority, Lambda Pi Eta Communication honor society, Student Ambassadors, and the Up Til Dawn Executive Board.
Did you go to grad school? If so, where?  Was it immediately after you left Truman or did you wait?
No, I got an internship at FleishmanHillard immediately after graduation and I have been working here ever since.
What was your first job after graduation?
My first job was an internship in the Corporate Reputation group at FleishmanHillard.
What work do you do/What are you doing now?
I am currently an account supervisor in the Corporate Reputation group at FleishmanHillard in St. Louis. I work on a wide range of clients in the technology, retail services and agriculture industries focusing on executive thought leadership, corporate communications and reputation management.
Which class did you dislike at the time you took it, but now you're grateful you took it?
I'm not sure there was any class I truly disliked, although there were a few where I struggled at the time. Communication Theory was a difficult one (sorry, Dr. Self), but it shaped the way I think about communication and how I use it every day. Overall, I think all of the classes were helpful in establishing how I think about communication.
How has your Liberal Arts/COMM education helped you?
My degree helped prepare me for the workforce in many ways. First, my education honed my critical thinking skills so that I'm able to think through a client project and anticipate any issues before they happen.
Next, it helped encourage my creativity. Thinking outside the box and bringing new ideas is critical in this industry, and my liberal arts education has helped me tap into my creativity.
Finally, I think it helped prepare me for the fast pace of my job. Things are constantly changing in the industry and it's critical to stay on top of the latest trends.
What was your greatest accomplishment at Truman?
My time at Truman truly shaped the person I am today. My personal and academic pursuits drove me to be a more thoughtful and confident person. I had such great mentors and fellow students that pushed me to be the best version of myself and not be afraid of dreaming big!
Why is Truman a good place for a student to study?
There are so many rich opportunities at Truman for students to pursue their passions through things like extracurricular activities, study abroad, and support from faculty. I found that students really tried to make the most out of their experience at Truman and push themselves to learn and grow.
What would you say a COMM student should absolutely do while at Truman?
Internships! I currently act as an intern coordinator at FleishmanHillard and interview candidates all year. The best way to set yourself apart as a job candidate is practical experience in the industry. I also emphasize that writing is a critical skill. College is a great time to practice and hone skills that will translate well into a future career.
What advice would you give someone who wants to go into the same line of work as you?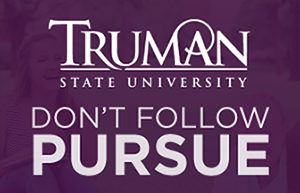 Pursue your passions. There are so many varied opportunities in the field of communications, but I think the most important thing is to be passionate about your work.
What do you miss most about campus/Kirksville?
The people are what I miss most. My time at Truman was truly defined by the people I met while I was there. I'm still connected to my friends from college, but nothing can replace the time we were all in Kirksville together.
What tag line would you create for the COMM department at Truman?
I'm so bad at this. How about "Communication is the key to success" ?
If you could come back to Truman and teach a class for a semester, what would be its title and what would it be about?
Thought Leadership and Business – The course would focus on how we as communications professionals can work with brands and leaders to define what they're passionate about and how they talk about themselves.
What did we not ask that you think is important for people to know?
Don't be afraid to try new things! You might start out in a particular job and decide it's not right for you. That's okay! Your interests may change over time and lead you in different directions. Take the time to find what you enjoy.
If you would like to hear more of Allie's story, you can follow her on Twitter or LinkedIn.
If you want to learn more about the Department of Communication, contact us!